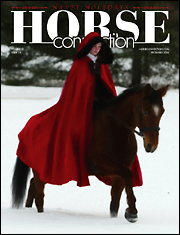 The Indoors Report, Part Two – December 2004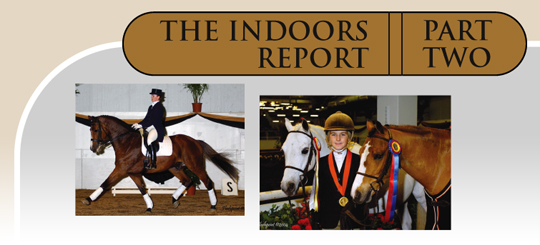 christine deherrera
If you ride in the hunter, jumper or equitation divisions qualifying for the finals at the "indoors" shows is a goal equal to none. While the number of these "indoors" championships has grown in number, the prestige and excitement has hardly diminished. A rider has truly arrived if he or she gets to jump the jumps at Harrisburg, Washington or New York. Here's the recap on the final three fall shows.
National Metropolitan Horse Show, New York City, November 3-7
Although this show has not quite captured the glory that was the old National held at Madison Square Garden, the event organizers have worked hard to create a prestigious and intimate event.

Maclay Finals
The ASPCA Maclay National Championship drew 104 riders who had qualified for the finals by placing in regional competitions held throughout the United States earlier in the year.
The first round of jumping action featured a challenging course designed by the judges for this year's finals – Olympic course designer Linda Allen, former Maclay national champion Chrystine Tauber, and Scott Williamson. The course consisted of 14 jumping efforts including a double and a triple combination.
Following the first round of jumping action, the list of riders was trimmed to 74 and they returned to the ring in three groups to show on the flat to determine who would move on to the final round of competition.
The top 15 riders returned in reverse order and competed over a different course, consisting of 10 jumping efforts that included a double combination and a trot jump. Riders were also asked to canter directly to fence number one and hand gallop the third fence.
When the dust cleared from this second round of jumping the title was still on the line as the judges requested further testing from the top three competitors–Addison Phillips, Megan Young and Julie Welles.
For Addison Phillips it was a nightmare at the first jump of the test when her horse apparently misjudged the distance to a natural obstacle of brush and rails, crashing through the fence. Phillips did a wonderful job of maintaining her balance and composure to complete the testing without further problems.
"I really can't explain what happened in there," Phillips said. "I thought I got to the fence pretty well, but he never really left the ground."
Megan Young was workmanlike and polished in completing her test, as was Julie Welles. Julie's horse however, pulled a rail.
When it was all said and done it was Megan Young's name that was announced as the 2004 ASPCA Maclay National Champion.
For Young it's been a year of great success, topped off by a tremendous fall tour. Young won the North American Equitation Championship at the Capital Challenge Horse Show in Upper Marlboro, Maryland, in late September. She followed that with a win in the USEF National Hunt Seat Medal Finals at the Pennsylvania National Horse Show in Harrisburg, Pennsylvania, and then a second place finish at the USET Medal Finals at Gladstone, New Jersey.
At the Metropolitan, Young won the Grand Junior Hunter Championship and was named Best Child Rider on a Horse.
"It has been a great year," Young beamed. "I never expected it to be so wonderful. I'm the luckiest kid ever. It has been a great final junior year."
The problems for Addison Phillips in the test were a windfall for Young. "It was shocking really," she said. "But it really helped me, so I was lucky she went first. My horse had jumped it almost the same way before so after watching Addie I was able to be just a little smarter about it and ride up to the distance rather than just cantering down to it and make sure I jumped the jump and not be to impressive," Young explained.
Young was holding her breath, right up until the announcement was made. "I thought it could still go either way between Julie and me," Young said. "Into the testing of the top three, Julie got called on top and at that point I really didn't know how far on top she was. Then it was a matter of how they were going to score Julie's rail down; they could have said it wasn't her rail, so I really thought it could have gone either way."

Blommberg's Ten Clear Rounds
"It was my day," said Georgina Bloomberg, of New York City, after claiming victory in the $100,000 Tavern on the Green Metropolitan Cup and the $50,000 Liberty Cup at the Metropolitan.
Both competitions were held over three days, November 4th, 5th, and 6th, in a modified World Cup format in which faults were carried over from each performance. For her win in the Metropolitan Cup, Bloomberg was also awarded the Whitney Stone Memorial Challenge Trophy donated by the late Mrs. Whitney Stone.
New York Mayor Michael Bloomberg was in the audience to watch his daughter ride to both victories and congratulate her. "He was just happy to see me go and see me do well," beamed Bloomberg.
Over three nights of competition, the 21-year-old college student rode three of her horses, Lumina 2, Nadia, and Action, all owned by Gotham Enterprizes, in a total of 11 jumping courses and posted 10 clear rounds. "I find once you have one under your belt you go off of it and the self confidence helps, so I find they're easier to put together," she said. "Self confidence is probably the number one thing you can go into the ring with."
Pony Winners
Eleven-year-old Samantha Schaeffer of Westminster, Maryland, took home both the Champion and the Reserve in the Small Pony Hunter section with Rainbow Canyon and Halcyon Hawthorne respectively. "Hawthorne loves sugar powdered donuts, loves 'em, but we couldn't get them here so we gave him salt and vinegar potato chips instead. And he loves candy. Any kind of candy and lots of it," laughed Schaeffer.
New York Dressage
The evening session of Opening Day at the 2004 Metropolitan National Horse Show kicked off with Dressage Night featuring the Continental Cup – a team Musical Freestyle competition. A rider at Grand Prix, Intermediaire I, and First Level made up each of three teams. The Dressage Night competition was by invitation only. The riders were selected and teamed up by two-time Olympian Lendon Gray who also acted as announcer for the night's freestyles.
The riders on the "Park Avenue Team" won the Gold Medal with a total score of 239. The Gold Medal winning team scored highly in their kurs. Cynthia Payne of Jupiter, Florida, rode Laredo to 81% in the Grand Prix, Argentina's Gabriel Armando of Flemington, New Jersey, aboard Euclid scored 80% in the Intermediaire I, and Isabelle Leibler, 9, of Greenwich, Connecticut, riding her German pony, Get the Picture, scored 78% at First Level.