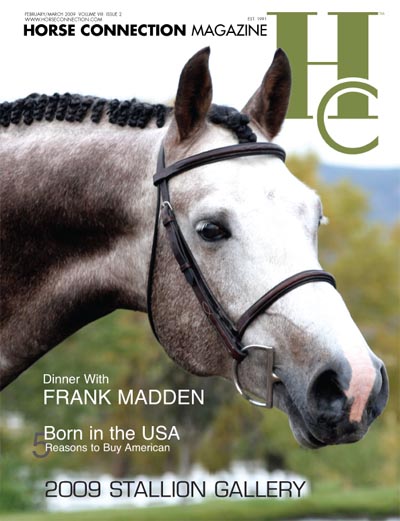 How to put on a Horse Show in 5 Days – February 2009
Geoff Young

It can be done. I've seen it, I went to it, and had more fun at this show than many I have been to. It had the feeling of a neighborhood block party except this block party had top of the (blood) line horses jumping big jumps, and first class people that were having a blast being around one another and the horses, doing what they love to do, with some cash thrown in to add juice, great food and drink, and, well, let me tell you how it was done.
It was a Sunday evening when Cameron Fitch and Ian Griffis were talking over a glass or two of wine. Cameron is a jumper rider who, with partner Jami Jensen, own Crooked Willow Farms in Larkspur, Colorado. Ian is a jumper rider as well, and his wife Susie and daughters Haley and Georgia jump and compete. They are the definition of a horse family.
"We had been talking for months about trying to put on a horse show," said Ian. "The idea was to put on a show that wasn't in competition with any 'A' shows, but rather an old fashioned European type of horse show sponsored by local businesses for local riders without a lot of expense, with a focus on fun."
Cameron added, "maybe it was the wine and port but we decided right then and there to stop talking about it and just move forward and do it and learn from it. To just do something even if it's right!"
The goal wasn't just this one show, but several, held every weekend in Colorado for young riders on a budget. Colorado has an active summer circuit and the National Western Stock Show provides competition for a week in January, but this plan would hopefully attract more riders outside of the state to come and compete, and more importantly, it would give Colorado riders more reasons to stay home and compete, thus increasing interest in the sport.
"When do you want to do this?" Ian asked Cameron. "Next Saturday," replied Cameron, who is not known as a procrastinator. The idea was conceived, a plan was hatched, and Cameron and Ian set out to put on a horse show with only five days to prepare and execute.
1 Monday
The show was to be held at Jami and Cameron's magnificent Crooked Willow Farms facility. It had a large indoor for the course, a lounge big enough for a party, and plenty of stabling for the horses. Cameron immediately found a title sponsor in Sandstone American Ranch, who offered support not just for this show, but also for a series of shows to follow.
Sandstone's Kurt Crawford was the point man and as he put it, "Sandstone has a commitment to the sport horse industry in Douglas County, Colorado and we want to see these types of events grow in this area. Sandstone's 100-year ranch heritage is built on respect for the land, the love of the horse, and the outdoor Colorado lifestyle."
It was a perfect partnership since Sandstone American Ranch consists of 2000 acres of breathtaking land across the road from Crooked Willow Farms, and is offering over 100 custom home sites adjacent to over one million acres of the Pike National Forest.
Day one was in the books and a location and title sponsor for the show had been found.
2 Tuesday
Ian and Cameron got on the phones, made about half a dozen calls to riders, and then let the grapevine spread the word. They then went about rounding up more sponsors for the show. By the end of the day they had Aviation Sales, Kate's Saddlery, the Griffis Group, Crooked Willow Farms, and of course, Horse Connection magazine signed on as sponsors.
3 Wednesday
Inquiries were made looking for someone to cater the event. Rising Video was brought onboard to provide video and closed-circuit coverage of the show, volunteers were contacted, and Becky Andrews agreed to design the course while Victor Kanaps signed on as judge.
4 Thursday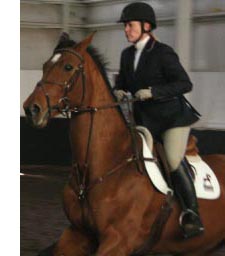 Everything was coming together on this day. Word had spread like wildfire and 40 riders were signed up, and all of the volunteers were rounded up. The show now had sponsors, riders, volunteers, a course designer and a show judge. With three days down and one to go before the Saturday show, things were looking good.
5 Friday
The catering was finalized with Amuze Bistro in Palmer Lake providing hors d'oeuvres, dinner, and drinks for those lucky enough to be going to this show. Chief Jimmy Bumgarner from the Larkspur Fire Department pledged their support by providing three emergency medical technicians (EMT's) for the event.
Saturday
The Sandstone American Ranch Jumper Night Horse Show would begin at 1pm. A closed-circuit feed was set up from the indoor arena to the lounge so that spectators could watch the action. 49 riders were now signed up to compete in three classes including the mini-prix finale.
Entry fees were only $10, and for an additional $20, hors d'oeuvres, dinner and drinks were included! The show was open to all local riders, amateurs and pros alike, and Crooked Willow Farms provided stalls.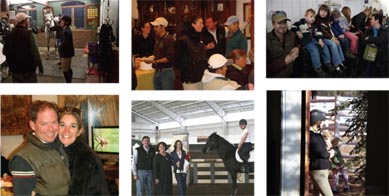 The show started on time with spectators enjoying hors d'oeuvres and drinks ringside as the competitors challenged Becky Andrews's course layout. First time show announcer Sam Steyn, who had read up on the rules the night before, did a steady job behind the microphone.
By early afternoon over 150 people had shown up for the show and the good vibes were just bouncing all over the arena. If only every horse show could be like this one. Winning riders received a dozen roses and a bottle of Schramsberg Champagne, the brand that has been served in the White House since Nixon! The sponsors personally presented the riders with their winnings in the ring immediately after the class. The riders in return gave the sponsors signed championship photos.
The mini-prix finished up around 4:30 and everyone retired to the lounge areas for a delicious barbecue dinner that lasted until about 8pm. It was an impressive show; especially given the fact that it had been put together in five days!
"What a wonderful event this was!" said Douglas County Commissioner Jack Hilbert."Equestrian riders from all walks invited to test their skills for fun and love of the sport. It took me back to my youth."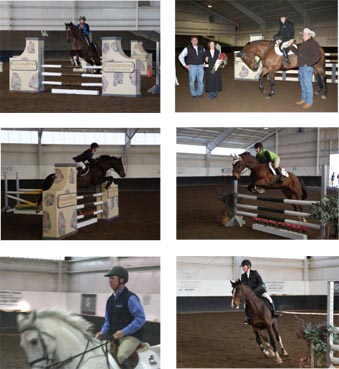 Said Nancy Gooding of Plum Creek Hollow Farm, who brought two horses to the show, " This show, like the venue, was first class. I liked that it was a small local show with only one ring to watch so the crowd was interested and enthusiastic for the duration of the one-day show. The sponsors were mentioned many times with great appreciation and those who won and placed in the sponsored classes were appreciative of the instant prize money that they received. Jami Jensen, Cameron Fitch, Ian and Susan Griffis, and the Sandstone people put on a first class show and I know that there are many of us who hope they continue with this successful horse show concept in the future."
The future looks bright for this show. Kurt Crawford from Sandstone added that, "to prepare riders for upcoming shows and to foster growth of these events we're going forward and calling them the Sandstone American Ranch Prep Circuit."
As for the accomplishment of Cameron, Ian, and Kurt in putting on this show, they said it was a total collaboration of many people. And that is what made it so special. A large group of Colorado sporthorse enthusiasts came together for one afternoon in January, with a common passion and purpose, and had a most wonderful time doing what they love to do. And that is what a horse show should be all about.
For information about future shows contact Crooked Willow Farms. www.crookedwillowfarms.com.