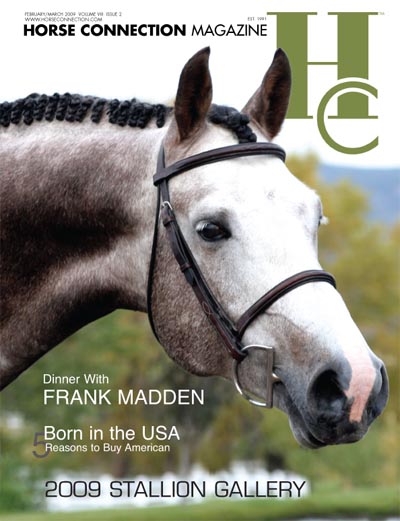 Born in the USA – 5 reasons to buy American – February 2009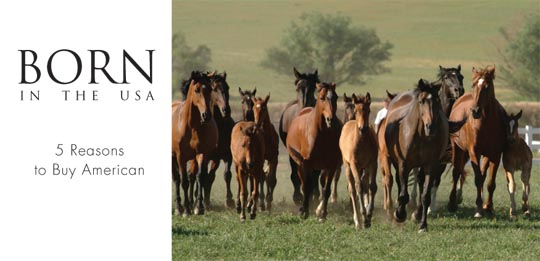 Christine DeHerrera
with additional reporting by Amy Borgman
If you are still shopping for
your next champion solely in Europe,
you may be missing out on some great horses.
Horses like Judgement ISF, winner of nearly $2 million in earnings; Ovation ISF, CSIO winner with Markus Fuchs; Pikko del Cerro HU, four-time winner in the young horse classes at Dressage at Devon; Cinnco de Mayo, an Intermediaire II winner that was exported to Europe; Selten HW, winner of the four year old division of the 2008 Markel/USEF National Young Horse Championships; Blue Danube, winner of a $100,000 HITS Grand Prix, and hundreds of other top competitors, were all bred in the U.S.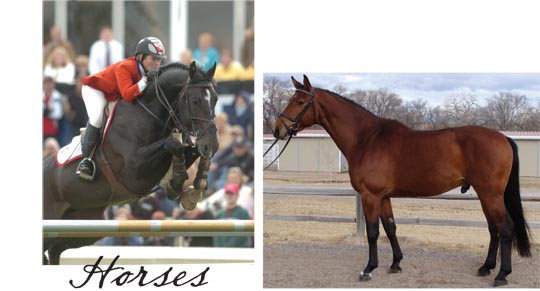 While they will always honor sporthorses' European heritage, American breeders are proving that they can produce quality on par with their European counterparts. Attend any inspection and you will hear inspectors say that the best American horses are as good as the best European youngsters. The result is that American shoppers can buy world-class horses in America.
Of course, the cachet of owning an imported horse is still as strong as the desire to own an Hermés scarf or a German-engineered sports car. But it's no longer necessary to cross the pond to get international quality dressage horses, jumpers and hunters.
Jami Jensen, Grand Prix showjumper, owner of Crooked Willow Farms and ranked #1 in USEF Hunter Breeding in 2007, says, "I think American breeders have come a long way and it is showing. Hopefully, people will start to recognize that."
For Anne Sparks, owner of Horses Unlimited, American breeders have been doing the work and are getting the results. "American breeders have spent the time and researched the bloodlines and crosses, and now it's paying off. Shoppers can find the best blood—Sandro Hit, Florestan, Lord Sinclair, Rohdiamant and Wolkenstein II right here in the U.S. In this market, these bloodlines have almost become inaccessible for many people who used to shop in Europe."
In this exclusive Horse Connection article, we talk to 11 of the country's most prominent and successful breeders about five great reasons to shop for your dream horse in the U.S.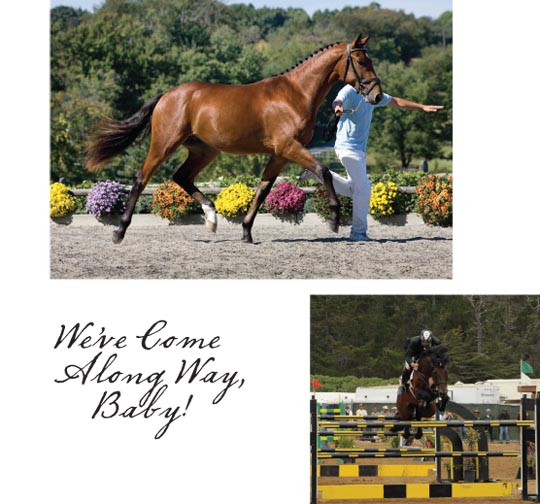 Twenty or thirty years ago, you might have found American breeders making do with whatever Quarter Horse or Thoroughbred mare they had. Not anymore. Today top breeders have the world's greatest bloodlines and proven producers in their broodmare bands. In many cases, they have one-upped their European counterparts by utilizing the best nutrition and latest veterinary care to produce world-class horses.
Mary Alice Malone is another serious competitor who has taken on the challenge of improving breeding in the United States. A top Grand Prix dressage rider and owner of Iron Spring Farm, Mary Alice has led Americans in breeding sporthorses for more than 30 years. Known as an innovator, she has seen a lot of positive changes since she began. "Everybody is much more knowledgeable about what they want. Mare and foal care, nutrition programs and young horse management have come a long way."
While American breeders are continuing to learn and grow, Mary Alice explains, "It's important for us to believe in ourselves—that we really can breed good horses. We don't need Europeans telling us what a nice horse is; we know what a nice horse is." Not only have Iron Spring Farm-bred horses been exported to Europe, horses produced by their stallions have competed at the Olympics and the World Championships, including Steffen Peters' Olympic mount Ravel, who is by Contango.
Karin Reid of Foxfire Farm also knows the thrill of having a horse exported to Europe. Cinnco de Mayo began a successful FEI career in the U.S. with wins through Intermediaire II before being purchased by an amateur rider in Germany. "Selling a horse to Europe is the highest honor I can think of for a breeder," she says. It is a good sign when the Europeans are buying American-bred horses for competition.
Another area in which Americans have surpassed the Europeans is the production of an athletic horse with extreme rideability. "One of the most important reasons to buy at home is that U.S. breeders are breeding primarily for the American market," explains Tish Quirk, breeder of dozens of successful hunters and jumpers at her farm in California. "The American rider is primarily a woman or a junior, not a large, tall man."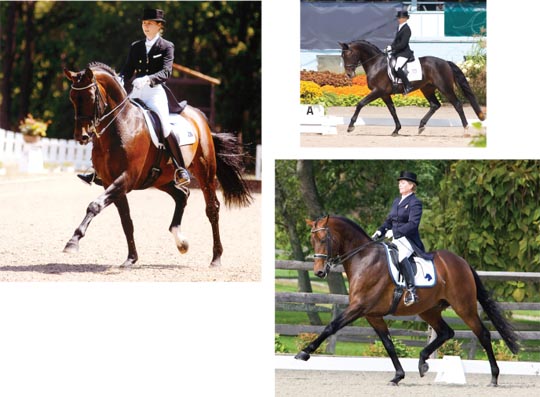 A good temperament paired with athletic ability is something that all of the breeders inter-viewed for this article are striving for. However, that is not necessarily the case in Europe. Barbara Ellison, owner of Wild Turkey Farm, shows in the amateur classes and aims to breed for riders like herself. "To have a horse you bred at a competition like Spruce Meadows is great, but so is having solid citizens that are competing with juniors and amateurs. I really want to breed a horse with a good brain."
In the quest for the perfect horse, shoppers shouldn't forget the little guys. Farms producing 30 foals a year or two foals can both deliver the ideal horse. "There are a lot of small breeders out there who are producing nice horses. They are upgrading their mares and having nice babies," explained Jami Jensen.
The American Grapevine
The breeders interviewed clearly believe in the quality of European sporthorse bloodlines and have imported numerous horses for their breeding and competition programs. They also agree, however, that one of the greatest advantages to shopping in the U.S. is the buyer's opportunity to thoroughly research the horse, the farm and the trainer, as well as the seller's track record.
Leslie Malone, owner of Harmony Sporthorses in Kiowa, Colorado, sees value in truly learning about a potential purchase. "If you buy a horse in America, you know where it came from," she says. A solid record of how it was cared for, what the horse eats and its veterinary history, is extraordinarily useful not only in making a buying decision, but also in caring for the horse after the purchase. Not having to deal with the importation drama of airline trips and quarantine time is another plus in Leslie's view.
Like Leslie, Mary Alice also sees benefits of buying in the U.S. "There's an American grapevine so you have some idea that the horse is what the seller says it is," she says. "In Europe, you can't really be sure of what you are buying. Once the horse leaves Europe, the buyer has no recourse if the horse turns out to have been misrepresented. Also, in the U.S., most veterinarians try very hard to be honest and if there is a complaint against them, their license is on the line."
While one of the draws for shopping in Europe is the large number of horses in a relatively small area, Mary Alice explains that there are places in the U.S., such as Florida, with a similar quantity of horses. "You can see a lot horses in a concentrated area in Florida and other areas. Plus you can have your own trainer and veterinarian look at the horse. Florida is a close flight and there are a lot of horses in Wellington and Ocala," she says,
Nancy Gooding, owner of Plum Creek Hollow in Sedalia, Colorado agrees that buyers can look at a large number of horses in many places in the U.S. Buyers need to investigate organizations like the Midwest Breeders Group that provide contact information for breeders within a geographic area. Many breed registries are also willing to help if you simply inquire.
Young Horse Programs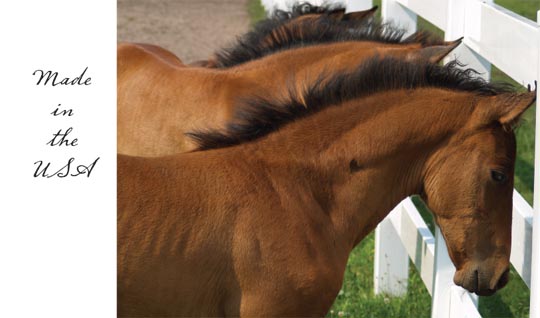 Another place to observe bloodlines in action and make great American contacts are through three great programs—Markel/USEF National Young Horse Dressage Championships, Young Jumper Championships and the International Hunter Futurity.
"The young horse programs are very, very good and are slowly gaining speed and popularity," says Patricia G. Towle, who has been breeding sporthorses for 25 years at her Tatra Farms with her partner Pavel Blaho. Their successful Grand Prix jumper Blue Danube began his career in the young horse classes.
With their growing popularity, the young horse programs are win-win for everyone involved—buyers, riders and stallion owners. "These programs have given recognition to the stallions when the young horses do well," explains Mary Alice. Her stallion Sir Sinclair sired three horses that qualified for the 2008 Markel/USEF National Young Horse Dressage Championships, including the four-year-old reserve champion, Zatino H. "Your horses receive exposure in the media and the show ring. Americans are finally able to track results."
Horses Unlimited also had three horses competing at the 2008 Markel/USEF National Young Horse Dressage Championships, by two of their stallions. Pikko del Cerro HU, by Pik L, who has swept his young horse divisions the last two years at Dressage at Devon with scores over 80%, finished fourth in the championship. "It has been a great showcase for my offspring by Pik L," Anne says. "And these programs are great for buyers to observe what traits stallions throw to their offspring.
Of course, you can see this at the breeding farm, but shows and inspections are a brilliant way for buyers to see the offspring of numerous stallions in one place."
There is no doubt that this recent interest in bloodlines is leveling the playing field between Europeans and Americans.
Kim Boyer, owner of Hampton Green Farm, attributes this growing enthusiasm in bloodlines to these young horse programs. "One of the things that the young horse programs have done is introduce the idea of bloodlines to the American consumer," she says.
Leslie Malone agrees. "We are trying to kick it up a notch," she says of the programs. "It is good exposure. For the horses that I've had in them, it has been valuable for marketing, for setting the goal and the standard for trainers. We have to pick it up a notch if we are going to compete against the Germans."
Tish Quirk believes so strongly in the International Hunter Futurity that all of her stallions and young horses are enrolled. "These young horse programs encourage Americans to develop their young horses," she comments. Quirk is also excited about a new program from the United States Hunter Jumper Association that will reward hunter breeding with cash prizes. Modeled after the AQHA Incentive Fund, this new program will help recognize owners, breeders and their quality produce. A variety of age appropriate classes will be included. The first year of competition for this new program will be in 2010.
The Weak Dollar
For many years, the American dollar was strong in comparison to the Euro. Unfortunately, that is no longer true. Factor in the cost of importation and buying American is looking like a smart investment.
Christine McCarthy, President of the KWPN-NA and owner of Idocus, says the money you spend on importation can be used for traveling within the U.S.
American breeders are definitely feeling the benefit of the weak dollar. "The Euro can be a boon to the American breeder," Kim Boyer states. "If you have a good horse, people will always buy it."
Patricia Towle believes, "Keep the dollars here and support our own economy," a sentiment echoed by many of the breeders we interviewed.
Challenge Meets Opportunity
While it is acknowledged that Americans are breeding quality horses, one weakness has been the lack of young horse trainers in the U.S. This is one of the reasons that people want to shop in Europe—young horses started right.
Nancy Gooding reflects, "The reason I go to Germany to buy horses is because they are already started correctly and started in a system. This system tells you what they should be doing at a certain age. Scott Hassler is working on developing that for us here and I think that is great. There are many top quality horses bred here, but they are not always developed to their potential."
Naturally, Americans have responded to this challenge with solutions. Since 2005, Harmony Sporthorses has sponsored a program, originally with Hilltop Farm, and now on-going with Hassler Dressage, which specifically educates professional trainers to properly develop young horses either towards the national tests or the FEI young horse program. Over the past several years, a variety of symposiums and educational opportunities focusing on this subject have been available nationwide.
Of course, there have always been good trainers in America, but sometimes these expert horsemen have had Grand Prix show barns and little time for working with youngsters. However, owners should not give up. "We do have people riding young horses in this country," Anne Sparks states. "You just have to keep an eye open at every horse show and watch the trainers in the warm-up rings. You can learn a lot just by watching."
Kim has also found good people to work with her young horses. "The standard for American dressage has gone up. Hilda Gurney and Lendon Gray's in-house programs are great. They teach the young trainers everything in the barn. There aren't a lot of trainers who want to bring along young horses. You have to find someone who enjoys training and showing at the lower levels." Kim recently hired a graduate of Hilda's program for her Hampton Green Farm.
American-bred horses are now getting the recognition they deserve. With the success of American horses on the international stage, more and more riders are searching for their next winner in their own backyards.