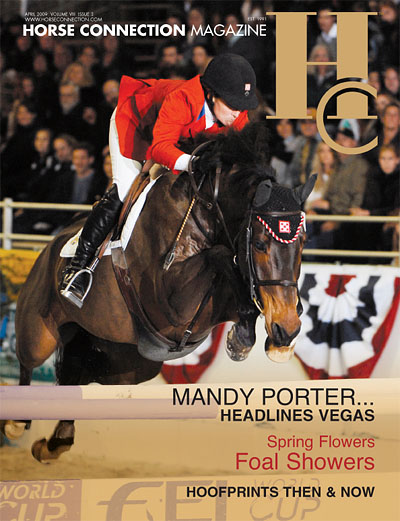 A World Class(y) pair – April 2009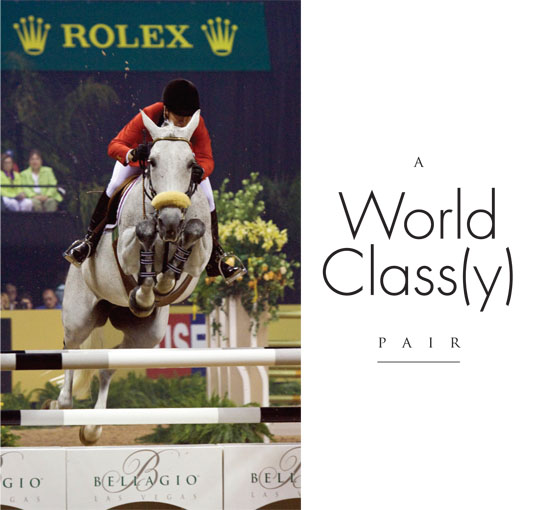 Geoff Young
Will Ferrell's character
Ron Burgundy, the anchorman,
used to sign off with this phrase;
"Stay classy, San Diego."

I can't personally attest
to how classy San Diego is as a city,
but I can say with certainty,
that San Diego is classy when
Mandy Porter is aboard.

As Ron Burgundy might exclaim,
"Can you say ManDiego?"

and her mount, Danielle Korsh's San Diego, are the bookends of the US World Cup team heading to Las Vegas. That's because the pair won the first West Coast World Cup qualifier in September, and the last, in March, to finish in first place in the West Coast World Cup League. And, regarding the Las Vegas World Cup; you could say that this talented rider has gone from Summer to San Diego.
Mandy Porter competed in the 2007 Las Vegas World Cup on Barb Ellison's horse Summer. Together, that pair won many grand prix and Summer won the PCHA Grand Prix Horse of the Year title in 2006.
Barb Ellison of Wild Turkey Farm has this to say about Porter. "I have been fortunate to have worked with Mandy for the last seven years and I look forward to many more years.  Mandy is the ultimate professional – a beautiful rider, a great horsewoman, and truly a wonderful person.  I wish her the best of luck this year at World Cup with San Diego.  You go girl!"
Now, paired with San Diego, Mandy is ready to return to Las Vegas and the challenging, tight, indoor course at the Thomas & Mack Center.
HC talked with Mandy after her victory in the final qualifier at the Blenheim Spring show in San Juan Capistrano.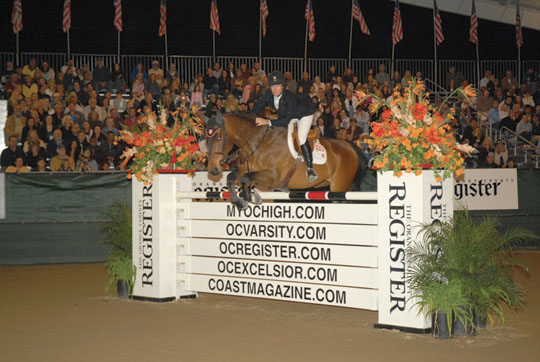 HC – Are you going to have time for a little R&R before Las Vegas?
MP – "A little bit, yeah. I'm going to go spend some time with my family and do some work in Northern California."
HC – Having competed in the last Las Vegas World Cup, are your preparations different this time as opposed to two years ago?
MP – "I'm definitely more comfortable this time around as I have a much better idea of what to expect. I won't be quite as star-struck this time around."
HC- Was the course a little intimidating when you rode it back in 2007?
MP – "Oh yeah, it definitely was. I had competed against a lot of the international riders when I lived in Europe but it had been a long time and I had never competed in a Final. It's definitely intimidating."
HC – You rode in indoor shows almost exclusively during the time you lived in Europe. Do you feel that the indoor experience there has given you a bit of an advantage as you deal with a course such as the one at the Thomas & Mack Center?
MP – "Absolutely – the more experience you have doing indoor venues gives you an advantage. I also rode in fairly small rings when I was growing up so that helped as well. Spending the winters riding indoors in Europe makes the adjustment to riding indoors here easier."
HC – Do you think the West Coast riders are at a disadvantage because of the lack of indoor shows? Not that anyone is complaining about riding in the California sunshine, but wouldn't more indoor venues season the riders better for a World Cup type competition?
MP – "It sure wouldn't hurt. We need to keep the indoor shows that we do have, and it is very important that our World Cup qualifiers remain indoors because that will help strengthen our field for the World Cup. It helps both horse and rider become more prepared."
HC – You use a lot of hill work and trail riding to condition your horses. What are the advantages to that kind of conditioning as opposed to just flat work in a ring?
MP – "I feel it really helps the horse with strengthening. We are fortunate to have a lot of trails right out the back of our facility. The horses are outside, not just going in circles. It gives them a fresh attitude because they are doing the work outdoors rather than on a treadmill or indoor ring. It's the best of both worlds. Not only do the horses get stronger doing the hill work, you are helping their mind. They don't get stale and they are a lot happier doing their job in the end."
HC – Tell us about your World Cup horse.
MP – San Diego is an eleven-year-old Dutch Warmblood who belongs to Danielle Korsh, who I train. Prior to the qualifiers last September, he had been doing the 1.40 classes and a little at 1.45. He didn't have any experience in indoor World Cup type qualifiers or 1.50-meter tracks at all. He's a really nice horse who has tried to answer the questions we have put in front of him. He's done a really good job and is obviously very talented. He's a quick study as well."
HC – How long have you been riding him?
MP – "Since the first qualifier at Showpark in September. I had not ridden him before that – Danielle was riding him."
HC – Are you and San Diego peaking at the right time for World Cup?
MP – "We're pulling it together. In seven months we've had an unbelievable amount of success. I don't know that I can really say that we're peaking. I think it takes a little bit longer. There are more ex-periences that he and I have not had together, and there is definitely more room for growth for the two of us. I am only riding him through the World Cup Finals and then Danielle is going to ride him again."
HC – The World Cup is intense but surely it can't be all work when you're in Las Vegas. Do you plan on having any fun when you're there?
MP – "That's a good question. If we could catch a show or two that would be nice. I usually stay pretty focused on what's in front of me so I'm not good on venturing out on aday tour when I need to get back and prepare for that afternoon or early evening class."
HC – No splurging on the buffets before heading to the Thomas & Mack Center?
MP – "No, we might hit a blackjack table or something but I stay pretty focused on what I'm there for."
HC – Since the Las Vegas World Cup will be your last competition with San Diego; we're hoping the two of you finish in a victorious swan song.