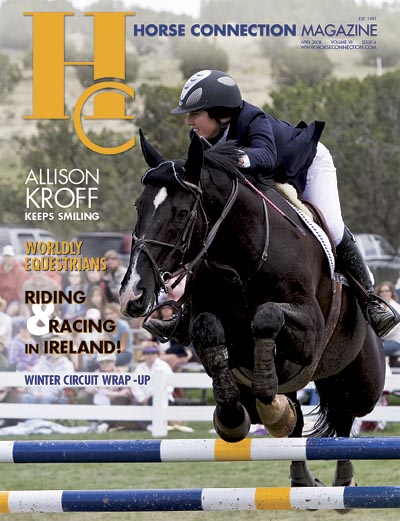 With a Smile on her face- April 2008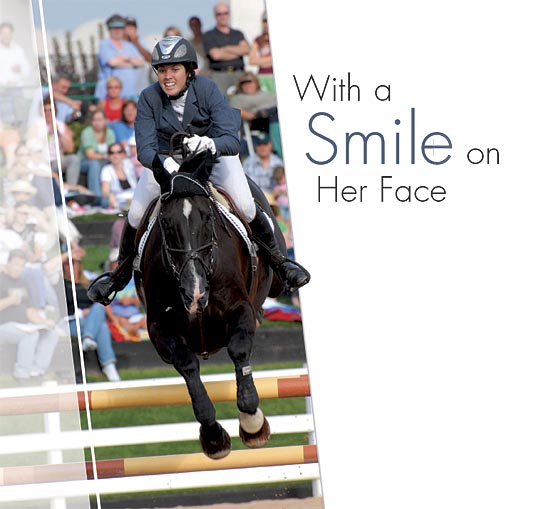 Evalyn Bemis
Allison Kroff always looks like she is having fun on horseback. There usually is good reason for the smile on her face. She has a wonderful string of horses, a supportive family and clients, and an enviable record of success. But don't confuse fun with ease – her success is the result of hard work and a single-minded pursuit of excellence.
Friend and fellow Grand Prix competitor Sarah Williams describes Allison, 24, as "quite a good rider, who gets the job done no matter what. She goes in the ring with total concentration and a desire to win."
Last year there were a lot of those wins – Allison piloted Nomograaf, her 12-year old Dutch Warmblood, to the top spot in 4 Grand Prix classes and placed in 17 more out of 30 they entered. Their biggest win was the $50,000 Las Vegas CSI-W Grand Prix in November, which put them in contention for a trip to the World Cup Finals at Gothenburg.
This kind of success could go to anyone's head but Allison puts the welfare of her horses before personal ambition. For a variety of reasons she chose to take her horses to Tucson for the winter circuit instead of contesting the next round of World Cup qualifiers. "My horses' well-being is what counts", said Allison, "and I can try again for the Finals when the time is right. I was glad to go to Tucson anyway, since I know it so well. I have been going to Tucson since I was 7."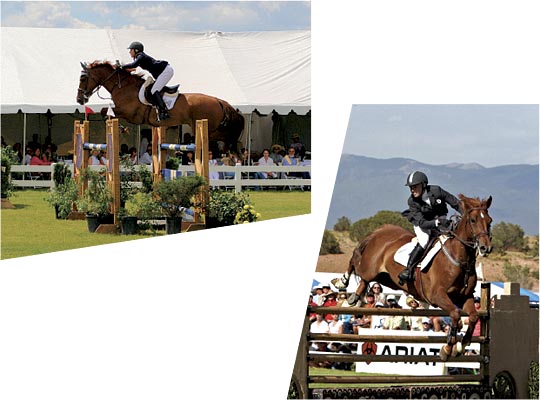 The decision to go to the Arizona Winter Circuit proved to be a good one for Miss Hans whom Allison piloted to the win in the $25,000 HITS Grand Prix on February 17, with the fastest double-clear in the jump-off. This was the first big win for the 15.2-hand Dutch mare who makes up for her size by being very quick over the jumps. Allison said her biggest challenge with Miss Hans is to remember to add a stride here and there, so that the mare gets to the base of the fences. As rider John McConnell likes to remind Allison, "There is no point in being 5 seconds faster than everyone else if you take down a rail."

Omar Shariff is another of Allison's horses that benefited from her choice of show circuits. She has been rebuilding his confidence since a fall off another horse last summer caused her to ride defensively to the jumps. Omar is the kind of horse that Allison likes to ride – eager to the fences – but he is also sensitive and picked up on her caution. The smaller Grand Prix classes and some of the lower level jumper divisions at Tucson were perfect for restoring his trust in her.
Allison turned professional last year and has taken on riding and training duties for a number of clients, including Alexandra Van Der Rest of Scottsdale. Between Alexandra's 15 horses and Allison's own, there is little down time. When asked how she spends her day off during the circuit, she answered with a laugh, "Doing laundry."
She has an RV that she lives in while at shows and says she loves the life, being outdoors, traveling, and working with horses. In fact, her vision of the perfect life is pretty much what she is doing, except it would include never having to part with any of her horses. As it is, Allison has a sweet business arrangement with her father, David Kroff. Together they buy young horses from Alan Waldman in Holland and Otto Vake in Germany. Once the horses come here Allison decides which of the horses to keep and which to sell – basically she keeps the hot ones ("my kind of ride") and sells the ones that are easy.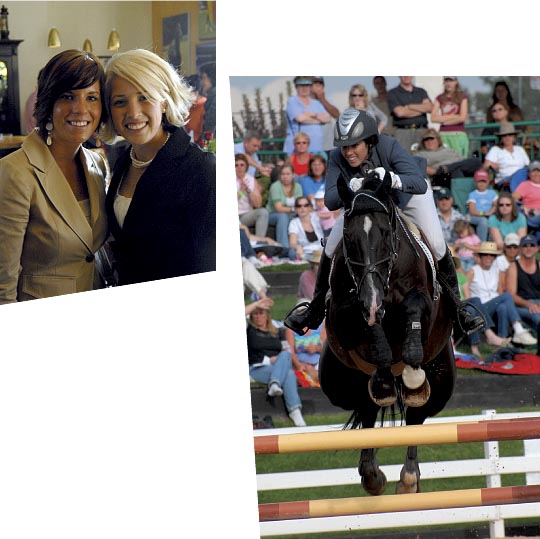 She has begun to develop a fan base, especially in Arizona where she grew up and has shown for so many years. While walking through a mall in Scottsdale with a non-horsey friend from school recently, Allison was approached by two little girls, who said giggling, "Oh my God, are you Allison Kroff?" The friend was shocked at Allison's apparent fame.
One of Allison's favorite shows is the Las Campanas Grand Prix de Santa Fe. She likes that she has won it twice out of the four years it has been held, and she enjoys the festive setting, with tents for the spectators, and the beautiful grass field, but most of all she loves the gala held on Saturday night. "I think it is fun to get all dressed up, since we are stuck in the same old clothes every day at the shows", commented Allison.
Grand Prix co-founder Guy McElvain, who is no slouch in the saddle himself, describes Allison as "All girl, but when she gets in the ring she is all tiger. She is great under pressure and knows how to win."
She plans to attend again in 2008, and with her current hot string of jumpers, including Nomograaf, Miss Hans and Omar Shariff, she'll be ready to run fast and jump high. No doubt, she'll do it all with a smile on her face.