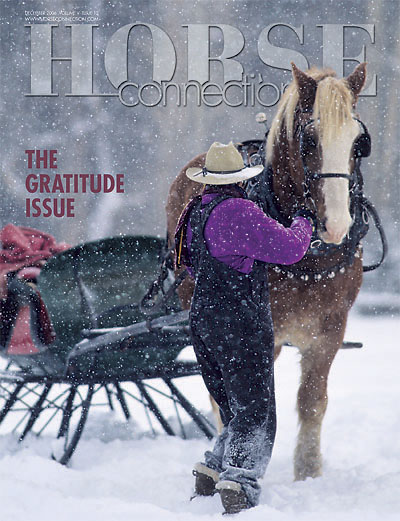 Kid Gloves, Big Bucks, and Team Spirit – the role that owners play in horse sports – December 2006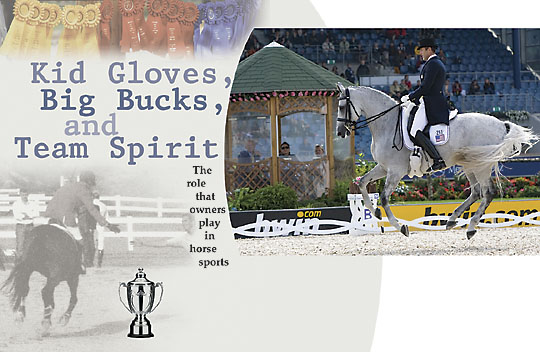 evalyn bemis

The rising cost of good horses and the need to have a barn full of them in order to be competitive has meant many riders must look to others to own their horses. What sort of person is willing to fulfill that role and on what terms? What do they get in return for the large sums of dough they fork out for horses they may never get to ride themselves?
Of course the answers vary greatly. There are a million arrangements to suit the individual requirements of both riders and their patrons. For some, the relationship may be strictly business, with semi-annual reports, an eye on the bottom line, and an invitation to the barn once a year. For others it is a devoted partnership, with daily phone calls or visits, birthday celebrations, and horses retired to the backyard.
Here are some of their stories.
Team Brown
It started with a love affair. She was young, petite, and devastatingly beautiful. He was successful in business and happily married, when a chance encounter at the barn introduced them. He called her Chere Amie and admired her jet black hair. One thing led to another and soon they were a pair, with Chere Amie living at the La Costa Stables and Dick Brown visiting on weekends from Los Angeles.
Growing up in New York and Connecticut, Dick had ridden with the legendary Bill Steinkraus and those skills were rekindled at the age of 55. Dick's wife Jane also rode as a child, but she was content to encourage Dick's new passion from ringside. As Dick and the 15.2 hand Chere Amie progressed in their training, he discovered an interest in dressage. One day while visiting friends at the Rancho Riding Club, the Browns observed a tall, blond-haired man on a horse. He rode like a dream. They asked if it might be possible to take some lessons with him. That was their introduction to Guenter Seidel.
After four years of weekend lessons under Guenter's tutelage, Dick had advanced to Prix St Georges on his horse, Jubilee. Guenter mentioned that a talented horse had come on the market and if the Browns would purchase Numir for Guenter to ride, he believed there was a chance he could make the 1992 Olympic team. This was the beginning of Team Brown.
The partnership with Numir resulted in a National Championship but not the Olympics. More horses were added to the fledgling stable, with Foltaire arriving in May of 1995 and Graf George stepping off the van in November. Graf George came with impressive credentials, having been ridden by Michael Poulin at the Barcelona Olympics in 1992.
In addition to accumulating horses, Team Brown was building experience and talent in other ways. Paul McClellan signed on as their veterinarian. Grooms Joel Gonzalez and Fernando Ortega have been devoted to their charges for many years and always travel with the horses. Farrier Jim Carr has gained almost as many frequent flyer miles as the horses in order to maintain a consistent trim and shoeing schedule. Jane Brown jokes that she has earned a PhD in laundry over the years, knowing each horse's wardrobe and the secrets of keeping all those fleece pads fluffy and white.
The purchase of Graf George brought the Browns their first taste of international success. Guenter and George were named to the U.S. Olympic team in 1996. At Atlanta they put in the anchor ride for the US, securing the team bronze medal and providing the Browns one of their proudest and most emotional moments of horse ownership.
Many other successes have followed but you get the sense talking with Jane Brown that having the horses at home and seeing them rolling in their pastures gives every bit as much pleasure as the medals and ribbons in the trophy room. Of Team Brown's nine current horses, four are retired to a life of wither scratches and carrots. Numir and Graf George are old gents napping in their turnouts, while Foltaire (19) and Nikolas (17) are ridden for pleasure.
Aragon (14) is the top performer at the moment, helping earn team bronze for the United States at the 2006 World Equestrian Games in Aachen, and finishing 13th in the Freestyle. He is coming into his own, showing more consistency and strength each time out.
Metropolitan (12) is a gorgeous bay hunk and schooled to Grand Prix level. He is on a six-month break to see if time off will give him the physical or mental adjustment needed to fulfill his promise. Princeton (8) is just arriving at the Grand Prix stage and shows enormous talent. His 18.2 hands are a good match for Guenter. U II, a Jazz son, is only five and earned a 74% at First Level in his first show. Vladmir is a wild young man still growing up in Germany.
Communication is the glue that holds Team Brown together. When Guenter won the Grand Prix Special on Aragon against some of the best riders and horses in Germany prior to the 2006 WEG, he called at 2 a.m. to share the news. He was as excited as if it was his first win. With the astronomical cost of horses these days, it doesn't hurt owners to hear good news even if it means waking them up from a sound sleep.
While talk may be the glue, Jane says it is Guenter's honesty, integrity and respect for their money that are the cornerstones of this successful partnership which has endured for nearly 19 years.
Bob and Sally Futh
The Fuths are typical owners in that they have a personal history of involvement with horses and sport. Sally grew up riding equitation and hunter-jumpers with homebred Thoroughbreds, was smitten with dressage after watching the 1956 Olympics at Stockholm, and even did some Combined Training, as Eventing used to be called. Bob worked on an Arabian farm as a teenager.
When Bob and Sally married, Sally's mother asked Bob if he knew that Sally had a horse and advised Bob that her daughter would think she needed more but she didn't. Little did she know that Bob and Sally had already bought a retired mare off the track to provide company for the weanling.
Parenting and breeding Collies interfered with Sally's personal ride time, but a pony for the kids led to other things, and daughter Jenny competed to Intermediate level Eventing on a homebred stallion and a mare purchased off the track. The Fuths currently have a youngster they will start at the races in 2007, and Jenny continues to event, while finishing nursing school and raising four horse-crazy children of her own.
The Fuths were introduced to Don and Pat Collier through mutual friends, and in turn the Colliers' daughter Cindy and Jen hit it off. Jen worked for Cindy at USET headquarters and helped her at events. The Fuths agreed to back Cindy's goal of representing the USA at the highest levels of the sport. Cindy's quest took her to Europe to gain experience and eventually to settle in England, where she runs the Cindy Rawson Event Team. The Fuths' first chance to enjoy an ownership role on an international scale was watching Cindy compete Time Will Tell at the World Equestrian Games in Pratoni in 1998.
Bob and Sally now co-own four-star event horse Ashdale David's Way with Cindy and her father Don. Cindy Rawson and "Davey" have competed extensively in England and Europe and are aiming for Badminton in May of 2007. The Fuths also own a four-year-old prospect that Cindy will soon begin competing.
Cindy makes all the decisions concerning the horses' training and competing, and the Fuths participate as cheerleaders and grooms. They chipped in for the initial purchases and contribute annually to the horses' expenses, including competition costs. Cindy pays the basic costs of upkeep on her farm in Somerset, England. All this is on a verbal basis. When asked if there is any monetary return from the ownership of the horses, Sally's answer was to the point – Hah! She quoted Mr. Pettibone – "I know there is money in horses; I put it there."
The Fuths have the pleasure of friendship and watching a great horse and rider compete, knowing they had a little something to do with getting them there.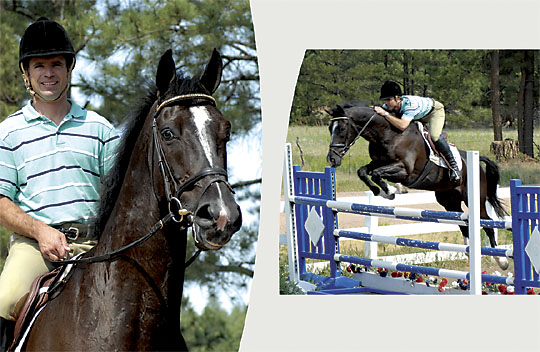 James Moore – Prestige Training
Jim Moore is a top-level rider in the sport of Eventing. He has trained and shown several horses to Advanced, notably Native Time, Chesapeake Bay, Grieko, and Herzjuwel, and won many regional and national awards. He is a USEA Level 3 certified instructor and dedicated coach. He has an established presence in Colorado, doing business as Prestige Training at Stellar Stables in Parker, Colorado.
Jim rode as an individual representing the USA at the Eventing World Cup Finals in Pau, France, in 2004, on his sister Cynthia Moore-West's Dutch Warmblood gelding, Grieko. He wants to ride for the US team again, specifically at the 2008 Beijing Olympics, and to accomplish that goal he needed a new horse, one with fewer miles on the clock. This was beyond his reach financially, so how to make it happen?
First off, Jim created a sponsorship page on his website, www.prestigetraining.com. It thoroughly lays out Jim's experience and accomplishments, gives the costs involved in competing a horse to the international level and the possible benefits of sponsorship, and has a tasteful photo gallery. The website is comprehensive and professional.
The next step was to hold a "Think Tank" in January 2006 with successful business people, invited by Jim and his wife Gina to brainstorm on ways to create either corporate or private sponsorship. At their first meeting the Moores handed out 50 T-shirts with the slogan "Come Along to Hong Kong". They broke down their campaign into two parts – raising funds for the purchase of a horse, and then raising money to compete the horse.
By their third dinner party Jim and Gina realized they were unlikely to find a single corporate sponsor willing to finance all of the purchase price or expenses. More feasible was the idea of finding several supporters each willing to ante up a small stake. They set a goal of finding takers for 100 shares at $1000 per share.
Meanwhile Jim had started the hunt for a horse. He knew he wanted something with proven experience but still young enough to be fresh and in good health. USET selector Peter Green helped Jim find Jockaloo in England, and a friend donated air miles to get Jim there to try the horse. A video and report upon Jim's return home was enough to convince 13 people to invest in a Limited Liability Company (LLC), with Jim as managing partner, for the purchase of Jockaloo, a Dutch Warmblood gelding.
In addition to the purchase price, the partners contribute to the cost of insurance but otherwise have no further financial obligation. The term of the agreement is for three years (to cover the goal of reaching 2008 Olympics), but Jim can decide to sell the horse and give the investors a return on their investment up to five per cent of the original share if things aren't going as hoped.
Jim gives his wife, Dr. Gina Moore, credit as the driving force behind his campaign. Her belief in him mirrors that of the people who have chosen to invest in the LLC. Now it is time for part two – raising money so that Jim and Jockaloo can hit the trail, or in this case, the horse trials, but it should be a bit easier now that people can see an actual horse.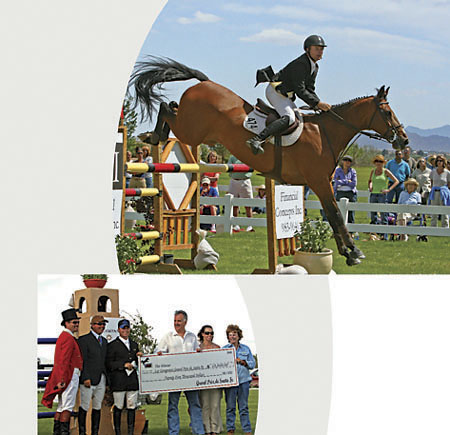 Sharn Wordley
New Zealander Sharn Wordley is a hard-working man. When interviewed in late October, he reckoned he had been away from horses for a mere three weeks in 2006. It was 9:30 at night and he was just sitting down to dinner. That kind of dedication is reaping rewards for Sharn and his owners.
In six weeks of back-to-back showing in the Mid-West and Southeast in September/October, Sharn was never out of the money on Mr. Flanagan. Earnings of $90,000+ in 2006 have boosted Mr. Flanagan into the highest ranks of the USEF Horse of the Year in the Grand Prix division, with superstars like Roxana 112, Madison and VDL Oranta.
Sharn is also showing up in the USEF rider rankings. He is likely to finish the year in the top twenty – not bad for three years in the States. His win on Medrano at the $25,000 Animal SOS Grand Prix on October 1, in New Market, TN, marked his 31st victory in this country. Perhaps more interesting is that co-owner Filip Amran of Istanbul, Turkey, placed 7th in the Lake St. Louis Grand Prix on Medrano a few weekends earlier.
Filip Amran met Sharn at a horse show in Europe, when Sharn was based there prior to coming to the U.S. Filip was an amateur rider interested in training. Sharn made him a proposition: buy me a horse to compete and I'll give you lessons. Once a month or so Filip would fly in to wherever Sharn was showing, and would ride and compete under his tutelage.
This became the model for Sharn's preferred way of working with clients seeking training, either for themselves or their horses. It cut down on the number of people willing to engage him as a trainer, but ensured Sharn top-quality horses to show.
His financial agreement with owners is that the horses will win enough to pay their expenses. If there is money leftover it is split between rider and owner. In order to achieve this, Sharn carefully maps out his show schedule up to eight months in advance and lives like a gypsy, moving from one show to the next.
Sharn's newest owner is Rhonda Goble of Westwind Equine Training Center in Friendsville, Tennessee. Rhonda laughed when asked about her relationship with Sharn, saying she knew she had a tiger by the tail when within a few weeks of meeting Sharn at a show in Tennessee, he was off to Europe to find new horses for Westwind ETC and himself.
Rhonda is not a rider – she is an electrical engineer by profession and stall-mucker by occasional necessity. Her daughter Randii is the rider in the family and since the age of 9 has been dedicated to horses. School is a bother that gets in the way of ride-time for 16-year-old Randii, who has the lofty goal of someday riding for the USA.
Rhonda Goble and partner Wendy Graziani started Westwind ETC in 2001 in support of their daughters' riding habits. Today the farm boasts two barns with a combined total of 53 stalls. Some of the top shows on the east coast are within an easy day's drive, including River Glen, Atlanta, Ocala, Devon and Knoxville. The farm is situated in the quiet, rolling hills of Tennessee, with a horse population second only to that of Texas.
Like many of the owners interviewed for this article, Rhonda is operating on a handshake agreement. She would love to make money on the investment horses, and she will enjoy watching Sharn at the shows, but her focus is the training of her daughter.
In conclusion, there are as many motives for sponsorship as there are colors of horses. The common denominator is a love of good horses and good sport. And while some arrangements may hold out the promise of a return on investment, the best bet is to remember the old adage, if you have to ask how much, you can't afford to play.