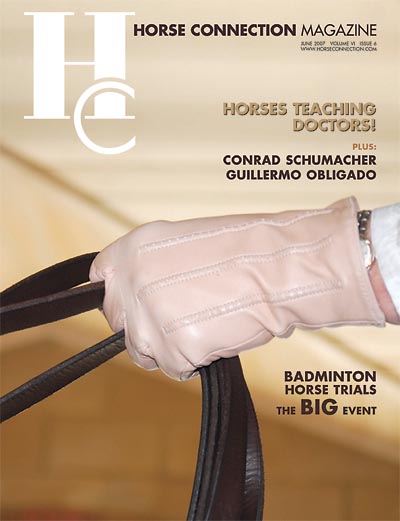 Did you Say Knickers or Nickers? Eventing in England – June 2007
Evalyn Bemis

I went to England in May to watch the Mitsubishi Motors Badminton Horse Trials. I noticed a few differences between here and there.
For starters, getting to the event required nerves of steel. You have to remember to keep to the wrong side of the road while being sleep-deprived from the transatlantic flight and driving an unfamiliar car. There is no such thing as a shoulder or curb to pull onto if you need to check directions. Know how far your side-view mirror extends from the car as a large piece of farm equipment heads towards you down a narrow country lane. Their autos may be s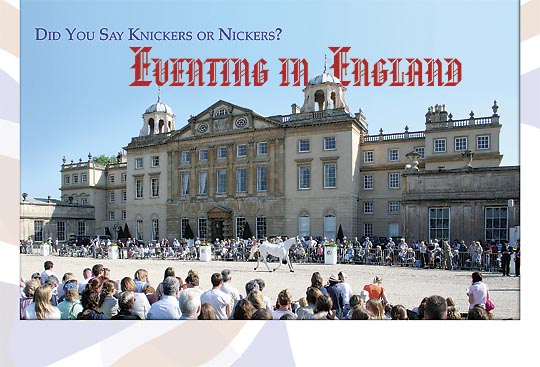 mall but their tractors are huge!
Forget getting a view of your whereabouts, as all the local roads are lined with hedgerows and stonewalls to keep sheep from wandering into traffic.
If you enter a roundabout at anything over 20 mph you risk centrifugal force hurling you out the first exit and before you can say "Harry Potter," you may find yourself in the hamlet of Dursley or North Nibley or maybe even Nempnett Thrubwell. I took a wrong turn and ended up in Pucklechurch, for heaven's sake. No one in Pucklechurch had ever heard of Blagdon, my destination of five miles away. Luckily there was a jet overhead on its way to Bristol airport, near Blagdon, so I knew which direction to head.
Rather than staying at a bland hotel chain, you may book a room at a B&B. These run the gamut from the quaint old parsonage filled with family heirlooms and assorted pedigreed dogs to a tidy, modern cottage with working plumbing. What is guaranteed is that your accommodations will have a name such as The Old Croft/Court/Cottage.
Once you have found your way to the competition grounds, you will mostly likely see a palatial ancestral home belonging to the titled estate owner. The 10th Lord and Lady will not actually live in this grand stone heap due to its lack of heating, but it makes a dramatic backdrop.
The first inspection of the horses entered in the competition will be conducted in front of the House. The judges will be formally attired and will do their best not to crack a smile. This is not a time to tell fart jokes unless your horse is lame and you are trying to cause a distraction.
Another tactic for getting a questionably sound horse passed is to wear a short skirt and kitten heels – everyone will be too busy wondering how you can run in that get-up to notice if your horse takes some funny steps. This works best if you are a woman, of course.
The men impress by wearing dark suits in the warmest part of the afternoon, and matching their horses' stride as fast as they can trot down the jog lane.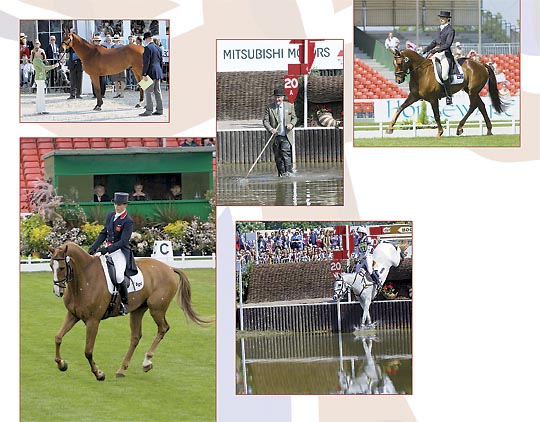 The first phase of an Event is dressage, and a noticeable difference between Badminton and most of our U.S. events is the green, green grass in the arena. There had been virtually no rain in six weeks and the grass was still more lush than anything we would expect in Colorado or California. White horses look fantastic performing on grass, as do bay, brown, black, grey and chestnut horses. Zara Phillips probably got extra points from the judges for having the best-colored horse – Toytown is a copper chestnut with white polka dots.
The presence of royalty is another thing they have that we don't. Zara Phillips (granddaughter of the Queen of England) was riding for the first time at Badminton, and she subtly cued spectators to her status by brushing a Z into a royal crown on Toytown's rump. It actually looked pretty classy. Even classier was the fact that she rode a great test for 6th place after dressage.
Kim Severson is the equivalent of royalty in U.S. eventing, having won Rolex Kentucky three times on Winsome Adante and a silver medal at the Athens Olympics in 2004. She wowed the judges and the spectators in her first appearance at Badminton, with a polished dressage test that earned them 2nd place initially. 
The knowledgeable crowd in the grandstands warmly expressed an appreciation of the good riding. Those who didn't care to watch the actual tests could catch glimpses on the big video screen in the trade fair or just place bets with the official bookie. Lucinda Fredericks was favored to win on Headley Britannia and she did not disappoint in dressage, having the best score out of 77 starters.
Cross-country is very popular at Badminton and enormous crowds came on Saturday to stroll the Duke of Beaufort's parklands. They were accompanied by every sort of dog and prepared for every sort of weather, with tank tops, sunscreen, umbrellas, and Wellies. Some people came just for the trade fair to do their Christmas shopping, never bothering with the competition.
The volunteer fence judges take their jobs very seriously at Badminton. You can tell by the way they dress – in three-piece suits and bowlers. I really liked the look of derby hat and waders on a man raking the water at Fence 20, Head of the Lake.
Monster ditches in front of, around, and below many of the jumps are much more common in England than at home. Riders are used to jumping them in the hunt fields and so are the horses, who know exactly where to put their feet – right at the edge of the take-off!
Good cross-country riding is the same everywhere – the best riders make it look easy and fun. I saw smiles on the faces of Gina Miles and Kim Severson, riding for the USA. Lucinda Fredericks (for Australia) went one better – she practically whooped and hollered her way around on her little mare, Headley Britannia. All those potential buyers who said "no" to a 15.3 hand chestnut mare had to eat crow as the Burghley champion demonstrated that the 2006 win was no fluke. "Brit" added nothing to her dressage score to retain the overnight lead.
Despite worries about the hard ground that kept 22 competitors from running their horses cross-country, those that did start generally went well. There were 18 horses with double-clear rounds and 15 more with only time faults added to their scores. There were 4 eliminations for horse falls, and 8 retired on course for one reason or another, but of all those that finished, just 5 did not come forward to show jumping.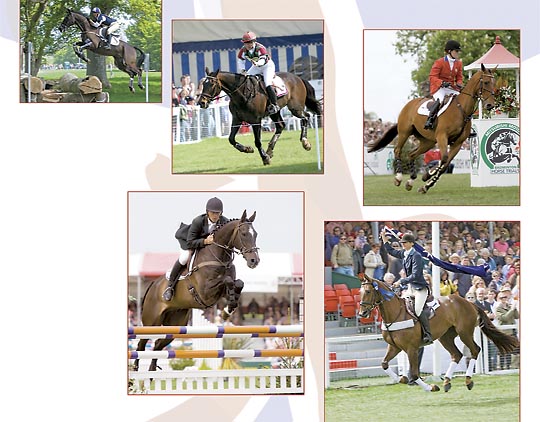 All three American entries ran well and looked good the next day. The difference between them and their European counterparts is that hard ground is something American horses are familiar with and their grooms know that ice is for putting on the horses' legs, not for drinks back at the caravan park.
Actually, it was an incredible effort by the ground crew at Badminton working through the night to aerate the turf and add 500 tons of topsoil to the track that saved the day. Event director Hugh Thomas said he'd know next year to pray in a different direction for rain and to not believe the weather forecaster sooner.
Show jumping was run in reverse order of standing, just like at home, so you don't know the winner until the final rider goes. The top four were very close, and only 2/10ths of a point separated Lucinda Fredericks and Kim Severson.
Andreas Dibowski (GER) on FRH Serve Well left all the rails up to finish 2nd on his dressage score of 41.6. Hinrich Romeike (GER) had two rails down on Marius Voigt-Logistik to drop from 3rd to 6th. Kim's horse, "Dan", knocked down a rail, then another, giving Lucinda some breathing space. Lucinda used it and some luck, to hang onto 1st with a final score of 39.6 on Headley Britannia. Kim and Dan ended in 3rd, a satisfactory result at arguably the most prestigious 4 Star event in the world. 4th went to Matt Ryan (AUS) on Bonza Katoomba, and Andrew Nicholson (NZL) and Lord Killinghurst were 5th, showing that experience counts by finishing on dressage scores of 46.2. Andrew also achieved a record 28th completion, having ridden at his first Badminton in 1984.
Congratulations and acknowledgements in a multitude of accents at the press conference following the end of competition were part of the usual wrap-up. The intimate description given by Lucinda Fredericks of the embryo transfer process planned for "Brit" as part of her rest break was less usual but might be attributed to champagne. There will be many people interested now in owning baby Brits.
In the end, it can be said that there are more similarities in the English and American horse worlds than differences – a common love of horses and fair sport, appreciation for a job well-done, and talent and hard-work counting for more than rank and wealth. Observing differences is part of the fun of travel, but good horses and good horsemanship are not defined by nationality.