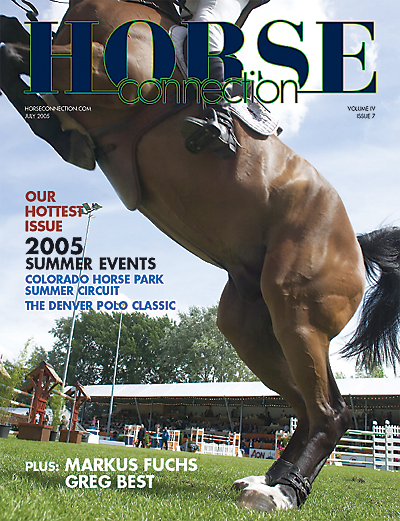 Year 2: Better Yet- The 2005 Grand Prix de Santa Fe – July 2005
evalyn bemis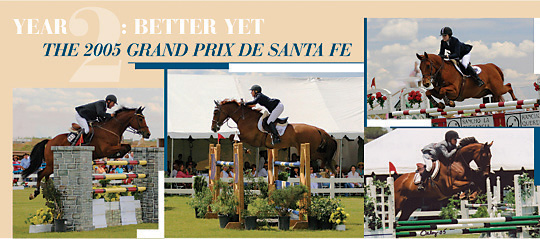 When you think of Santa Fe, New Mexico, you probably don't envision English-style riders in dark hunt coats and sparkling white breeches on gleaming, muscular horses bounding over five foot tall colorful jumps. Perhaps next year, when Memorial Day weekend rolls around again, you will.
A short drive past the South West city limits of Santa Fe is the privately owned Santa Fe Horse Park. Open and undeveloped country surrounding the Horse Park make it an inviting place for horse shows, trail rides, clinics, polo games and generally goofing around with horses. Polo, or rather the level grass fields that polo is played on, is the raison d'etre for the Horse Park. In Santa Fe's dry, high-desert climate, turf is a rare sight.
Combine that green grass with a vivid blue sky filled with puffy clouds, framed by red hills and snow-topped mountains and you have a postcard setting. Add easy trailer-in access, lots of indoor and outdoor arena space, nearby hotel accommodations, and you can understand why a lot of people have hankered for more shows at the Horse Park. Until now few have had the ability or daring to make it happen.
The second running of the Grand Prix de Santa Fe over May 28-29, 2005, was a smash success. 78 entries competed in the three classes offered, the $5,000 Capitol Ford Children/Adult Amateur Classic, the $7,000 Santa Fe Properties Junior/Amateur Owner Classic, and the $25,000 Santa Fe Horse Park Grand Prix. Over 4000 spectators came out over the two days to enjoy top-notch sport.
The big draw, the Grand Prix, had 28 horse-and-rider pairs tackling Jerry Dougherty's tough course. The bending line from the triple bar at fence three to the in-and-out in front of the bleachers was the first real test of skill and it got harder from there. Some horses said "No thank you" to the triple combination; there were a couple of involuntary dismounts by riders (i.e. falls), and several duos were close but no cigar to leaving all the rails in place within the time allowed. Ultimately five put in clear rounds to qualify for the jump off.
There was an added incentive to do well in the class – many of the riders were vying for the bonus money offered to the top three finishers in a mini-circuit comprised of the Tulsa Grand Prix, the Grand Prix de Santa Fe, and the Sandia Classic Grand Prix I and II.

Many of the riders are friends that see each other at shows around the country, and some are trainers. Most are professionals, a few are amateurs and there might even have been a couple of juniors sprinkled in the mix. All the riders spend a lot of time in the saddle to prepare to compete at the Grand Prix level. There is an advantage for those riding more than one horse. Eight riders rode 18 of the 28 entries, and four of those took the top four places. The fifth, Courtney Frederick, only had one horse but she rode Flocon de Miels to third in the JR/AO for a good tune-up the day before the Grand Prix class.
First in the ring was Paul Rohrbach from Colorado. Returning with Shiraz, who placed second in last year's Grand Prix, Paul showed he meant business with a fast and seemingly effortless clear round. There must be something about being the leadoff rider – last year, Allison Kroff held the same position. It took five more entries before Courtney Frederick riding her gorgeous chestnut gelding came up with another clear round.
Allison Kroff of Phoenix, Arizona, winner of the 2004 Grand Prix, returned to Santa Fe with Omar Sharif and Atlantis, plus a new horse, Gap, just 10 days off the plane from Germany. Gap and Allison were still working out their communication skills but he looks like one for the future. Omar Shariff, on the other hand, has a perfect understanding with Allison as to his job and he was all business. For insurance, he put an extra eight inches of space between himself and the top rail of every fence.
Guy McElvain of Rancho Corazon, Lemitar, NM, demonstrated a lot of bravery to pilot his own Courchevel and his mother's Corcel over the course, in addition to organizing the show with Brian Gonzales. He must have been especially pleased to leave intact fence six, the Rancho Corazon panels, where many came to grief. A few rails elsewhere left them out of the jump off but with a smile on Guy's face, nonetheless.
Local star and trainer, Sarah Invicta Williams, had a great start with Las Campanas Money Penny. Then a decision to add a stride in front of 10a of the triple combination caused Money Penny to slip a little on the grass and then really put on the brakes, bringing down the oxer. By the time the fence was reset, Money Penny no longer wanted to play and although she jumped 10a she felt it was asking too much to then jump the oxer at 10b. Sarah's second ride, on Sunshine, ended in a crashing fall at fence eight, the Liverpool, but after a moment of catching her breath, Sarah gamely walked off the field. So it goes some days.
Rebecca Johanson-Hofmann was a study in concentration as she and Corona watched trainer Craig Martin go two rounds ahead of her. She must have gotten something from it as she put in a lovely ride, good enough for eventual eleventh place prize money. Corona's white coat made a beautiful picture against the backdrop of clouds, sky and grass.
Another successful returnee from last year (winning prize money is good incentive) was John McConnell. He had to ride well for pride's sake, as his niece Emily had already ridden to eighth place in the Children's/Amateur Owner jump-off earlier in the day. John has had a long partnership with Spanish Eyes and it was apparent, as they skipped around the 16 fences to join the finalists. John also had a good round with La Picolina, for seventh and $1000.
Paul Rohrbach came back with Camilla Z and was the best of the four-faulters, for eventual sixth place and a check for $1250. Another three went and then Sharn Wordley of New Zealand showed why owner Beverly Grundhofer has put her confidence in his ability on Gorki. Gorki jumped out of his skin for Sharn, who crossed the timers with a big smile on his face. This was Sharn's third ride of the day, saving the best for last. His earlier ride on Grundhofer's horse Cody was good enough for ninth place.
The final rider of the day was Allison Kroff on her winner from last year, Atlantis. The mare seemed wild, charging at the fences and disagreeing with Allison as to who should be in control. She jumped brilliantly but the wrestling match caused them to have some rails, thus losing the chance for a repeat performance and ending the day in twelfth.
Thus, the jump off field consisted of five contenders: Paul Rohrbach on Shiraz, Courtney Frederick on Flocon de Miels, Allison Kroff on Omar Shariff, John McConnell on Spanish Eyes, and Sharn Wordley on Gorki. Returning in their original starting order meant Paul had the tough job of being the trailblazer. He gambled with a fast round but had one rail for four faults. Courtney, a young rider fairly new to the Grand Prix level, went cautiously, not opting for a couple of inside turns and had just one rail. From there each rider laid down a little bit faster time with no faults, ending with Sharn grabbing the blue ribbon and winner's check.

Sharn Wordley,
Gorki, $7500

John McConnell,
Spanish Eyes, $5500

Allison Kroff,
Omar Shariff, $3250

Paul Rohrbach,
Shiraz, $2000

Courtney Frederick,
Flocan de Miels, $1500

Organizers Guy McElvain and Brian Gonzales are already thinking about next year's event, with plans for more warm-up classes, possibly more prize money and maybe using a format similar to the World Cup, where the top qualifiers from the first rounds progress to a second day. They are interested in showcasing more local talent with demonstrations of other equine pursuits, such as dressage and reining.
The excitement and support exist in the community, as demonstrated by the generous sponsorship of local businesses such as the Horse Park, Santa Fe Properties, Capitol Ford, McElvain Oil Company, Eldorado Hotel, Las Campanas, and Clint Mortenson Silver and Saddles. In fact, if you saw the jewel-encrusted silver buckle from Clint Mortenson that Sharn Wordley won, you might just think about getting ready to compete in 2006.