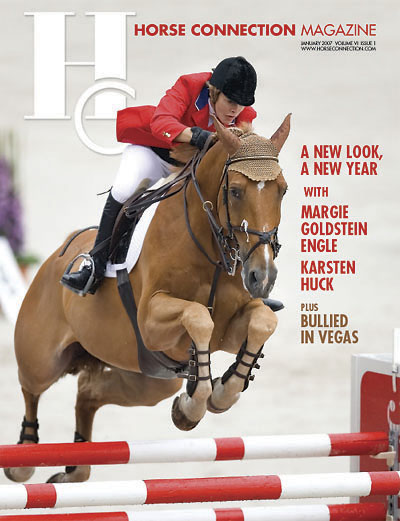 Lessons from a Master- January 2007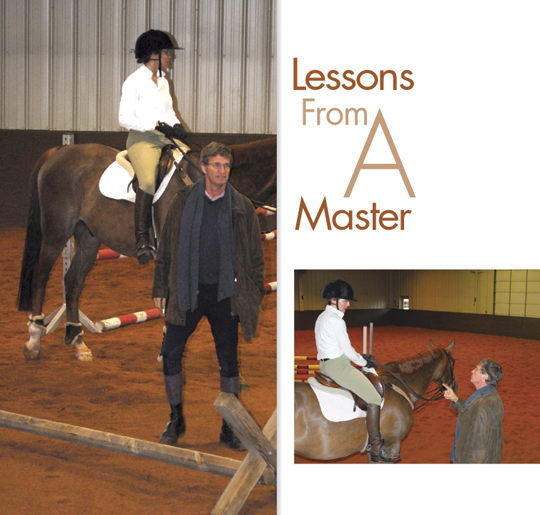 glenn hartigan

It was more than 20 years ago that Karsten Huck first came to the United States to compete in the prestigious Madison Square Garden in New York City. At that time, he was already one of Germany's top competitors, and was just starting to make his presence felt on the international scene.
Since that time Karsten has been decorated with ribbons and medals from nearly every major competition in the world. Recently, he was awarded the German Equestrian Federation's most prestigious honor, the title of "Reitmeister" (Riding Master). This distinction is granted to a few rare individuals who have demonstrated extraordinary abilities as riders and are passionate in their desire to share their knowledge. In recent years, Karsten has shifted his focus from competition to instruction.
This winter, Karsten returned to America to share what he has learned at a clinic held at Plum Creek Hollow Farm in Larkspur, Colorado. Participants had a rare opportunity to learn from one of this generation's finest horseman.
The enthusiasm with which Karsten shared his knowledge was evident to the riders long before the first horse was saddled. The evening prior to the clinic, participants were invited to view video presentations on topics related to the training of show jumpers. The first video illustrated the use and importance of cavaletti in the daily training of equine athletes, particularly show jumpers.
The second presentation included video and pictures taken from the 2006 World Championships, held in Aachen, Germany. The final four riders from the individual competition were shown jumping both "live" and in time-lapsed photography over a fence. Since the individual final requires that the riders swap horses, the video presented a unique and educational way to observe and compare how different riding styles affect the jumping styles of the horses. The audience left feeling motivated and eager for the clinic to begin.
On the first day of riding, the participants realized that Karsten's focus is on the horse. He taught the riders how to improve their horse's way of going and not to spend a lot of time concentrating on heels down, shoulders back, and position and posture corrections that are emphasized in many American equitation programs. This shift in focus, from rider to horse, seems that it might be backwards … after all, don't we, as riders, have to learn how to work on ourselves first, and then fix the horse? Well, yes … but only to a point. German trainers assume that if a student is not falling off, he is able to follow instruction and give simple aids, and in the process of improving the horse's gait, carriage and straightness, he will improve as a rider.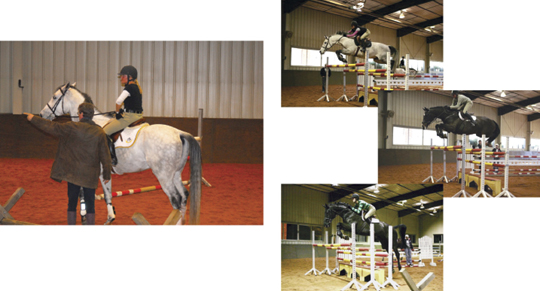 German professionals don't make a distinction between riding a horse and training a horse. The idea of "equitating" is foreign to them and, in fact, the idea of a rider posturing above the horse as an end in itself seems pointless to them. If you are riding a horse, then your goal as a rider should be to improve that horse; this principle is the defining characteristic of Karsten's training.
Each session began with lengthy instruction on the flat that emphasized the importance of correct dressage work in producing a supple, obedient, and satisfied horse. Karsten explained the proper way to ride shoulders-in, travers, voltes, turns-on-haunches and lengthenings of stride, and the significance of doing it properly.
The riders progressed to jumping cavaletti in a variety of configurations to improve rhythm and stride. Progression to the first jumps was a smooth and natural transition that included many of the previous cavaletti and flatwork exercises – always with the emphasis on a relaxed and confident horse/rider team.
As the weekend went on and the jumps got bigger, participants and auditors alike were impressed by Karsten's relaxed but very focused way of teaching. His ability to quickly identify each rider's weaknesses and suggest exercises that got to the root of the problems was impressive – single fences and short courses were frequently combined with a form of flatwork exercise or cavaletti work. Karsten explained that the purpose of this method was "not only to keep the horses interested and relaxed, but also to keep the horses engaged in the hindquarters and round over their backs."
The clinic ended Sunday with all in attendance feeling encouraged and grateful for this rare opportunity to learn from one of the sport's living legends.
A cocktail party hosted by Geoff and Valerie Young of Horse Connection magazine, presented an opportunity for the riders to socialize with Karsten in a relaxed setting. Karsten recounted stories of his most famous horses and interesting anecdotes about his competitive career that captivated his listeners.
Before leaving Colorado to revisit New York City for the first time since competing there years ago, Karsten thanked his host Nancy Gooding and all the riders for their support of the clinic. He promised that he will be back.