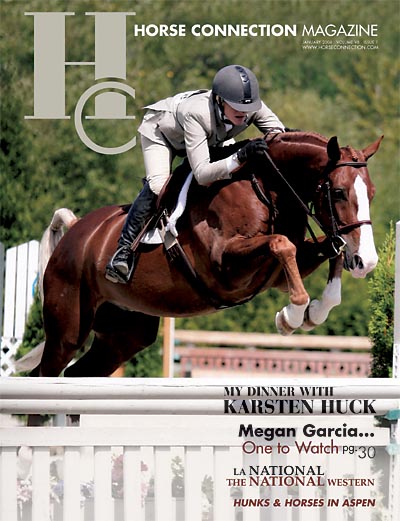 My Dinner with Karsten Huck – January 2008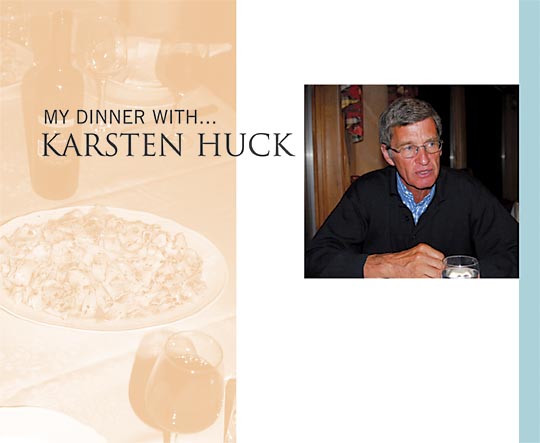 Geoff Young
The best stories are told over a good meal with a good bottle of red, and that is what I was anticipating as I drove to the restaurant where I would be meeting Karsten Huck. Huck built his reputation for handling difficult horses, and with an Olympic medal to his credit, this German showjumping champion would make an excellent dinner companion.
Huck has been decorated with ribbons and medals from nearly every major competition in the world. Recently, he was awarded the German Equestrian Federation's most prestigious honor – the title of "Reitmeister"(Riding Master).
Karsten had just finished holding a clinic at Plum Creek Hollow Farm, and I was looking forward to hearing what he had to say about his duel with Greg Best for a medal in the 1988 Seoul Olympics. I was also interested in what Karsten had to say about the state of our equestrian sports here in the U.S.
"I'll have the shrimp cocktail," Karsten said to the waiter. "I'm starting with the wine," I said smiling. "You hold clinics all over the world and I understand you're teaching the Chinese now."
"Yes, I teach the Chinese riders on the horses that they have bought. They want to learn everything about the horse."
"How did this teaching partnership come about – more wine?"
"Yes, it started four years ago when I made contact with the Shanghai Equestrian Club. The Holtsteiner Verband in Germany had been selling horses to the Chinese, and they would send the Chinese riders to me to learn on the horse they had bought. The rider would come and stay at my farm for six months, then go back to China with the horse. The Chinese have really grown up with regards to riding in the last three years. I went over to the Shanghai Equestrian Club to help instruct them, and they won the team championship and the individual championship at the National Games. It gave notice to the other riding clubs in China that they need to get better education and acquire better horses."
"We need a couple of more minutes," I said to the waiter, as he lurked waiting to take our order. "I really enjoy the more relaxed pace of Europe, especially when it comes to eating. Here in the U.S. everyone is in a hurry – order, eat, get going."
"Yes, it's very fast paced here," said Huck, as he finished off his shrimp cocktail.
"Let's talk about our horse industry here in the U.S." I said. Karsten looked at me intently, "You could change the horse world with the possibilities available here in the U.S."
"I think having the World Cup in Las Vegas on a permanent basis would be a good start. It would create more visibility and greater presence for our horse sports," I said, looking for the now vanished waiter.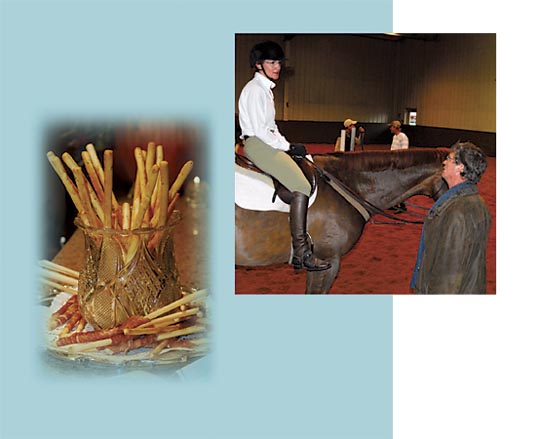 Karsten nodded. "I think it is difficult for U.S. riders to go to the finals, whether it's in Kuala Lumpur or Vegas, because it's always indoors and there aren't many indoor shows in the states. Just because one rides under a roof doesn't make it an indoor show. It's very hard for the horse to go from an outdoor show to an indoor show, and the arena in Las Vegas is really small, and I think it makes it very difficult for the riders from the states – it's too small for a World Cup Final, but I do think that Las Vegas is a good place for the finals because it attracts people from all over the world. I think that half of them come for the World Cup and the other half come to see Las Vegas, so it's a good partnership."
"I'll let my guest, the Olympic medalist from Germany order first," I said to the now vaguely interested waiter. "I'll have the salmon," said Karsten. "And I'll have the filet, medium English, as they say in Germany." Huck laughed. "What is that?" asked the waiter. "Medium rare and don't rush the food," I said. I refilled our wine glasses and returned to our discussion regarding the U.S.
"What do we need to do to improve our riding?" I asked the Individual Bronze Medalist in Showjumping.
"I can only speak for the jumpers, but my feeling is that very often riders in the states think that they are good enough but the horses aren't good enough. For example, when you are in a competition and you have one, two, or three down, you should think about what was the mistake of the rider and not the horse. I don't mean to say it so directly and of course it doesn't apply to every rider but…"
"That's a good point and needs to be said directly," I concurred. "The horse is only doing what we ask of it."
"Yes, when I was watching my first show in the states many years ago, a rider was coming out of the ring and had three or four down. In Europe that would be catastrophic, but here the rider comes out and the trainer came up and was saying 'well done, well done, very good.' I thought I was in the wrong movie – on another planet. To praise somebody for a four down round – what could be the reason?"
"We could learn something from the discipline and 'no excuse' attitude that is a trademark of the German system. If you want to be the best you can't worry about hurting someone's feelings," I said.
Karsten nodded, "In Europe, if you want to be successful you have to be very strong. You don't see golf carts at the shows in Germany."
"God forbid you should walk from the ring back to the stables," I said laughing.
"In Germany you work hard because there are opportunities to succeed and make a living, plus there are so many more shows. The difference is the size of the U.S. There is so much distance between shows that you have to have one show that lasts seven weeks. I think this is a problem because there is no atmosphere for the horses. It is always the same show, the same grounds and the same rings. In Germany there is no show that goes longer than five days and then you go to another place, another city, another showground, and the horses see other fences. To jump the same fences for seven weeks is not an education for the horse, and at the end of the show they are tired mentally and physically."
"That's a good point," I said. "The size of the U.S. presents a huge obstacle to travelling to many shows."
"Yes," said Karsten, "all of that travel is not good for the survival of the horse. The top U.S. riders know this, and that is why they come over to Europe during the summer."
"I can't believe all of the equipment I see at shows here, especially the stables," said Huck. "It looks like their home. Furniture, flowers, tables and chairs, and ribbons everywhere. It's unbelievable."
"You know why they do that?" I asked. "It's because they're stuck at a show for seven weeks and so they make the stable area their home away from home."
"Yes, that's got to be the reason," Karsten said laughing.
"If you were only going to be at a show for three days you wouldn't bother to bring the sofa," I said chuckling.
"I showed my friends back in Germany pictures of the stables and they couldn't believe it, but it's another world."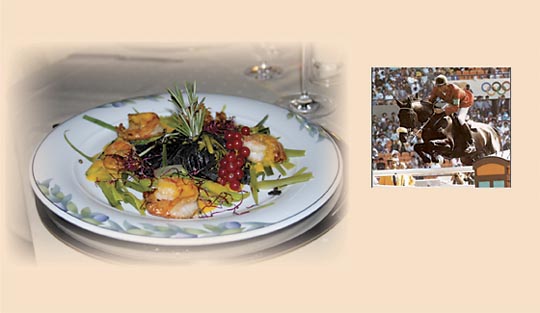 "Before we move on to your Olympic experience, I want to ask you one more question concerning the U.S. Do you think we are ready for a woman president like you now have in Germany?"
"Why not?" said Karsten. "It could be a good thing."
"How old were you when you went to the 1988 Seoul Olympics?" I asked.
"I was 43. I had never had a chance to compete for the Olympics – it came very suddenly. I had a chance in '84, when I was the German Showjumping Champion with Calandro. There was a problem with my amateur status – they considered me a professional. It was my mistake because everyone was making money but I was the only one to declare it. Then I changed my status and the FEI changed the rules, but nothing changed really."
"Back in '85 I was looking for a horse and found this nine-year old with no show experience. He was a Bavarian horse with Trakehner blood on the mare's side. I heard that and went, 'ugh,' I'll look elsewhere. A year later I run into the man who owned the horse and he tells me that in its first show the horse won the 1.10-meter class, and in the last show of the year the horse had won the 1.45-meter class. I said where is this horse!"
"I tried him but it was not love at first sight. The man was willing to sell me a share of the horse but the horse had to stay with the man. I wasn't going to move my family to be close to that horse so I said goodbye. Here is where the story gets really good."
"It was a Friday night and I was talking with my fiancé about what to do – conducting clinics, riding again, and looking for a young horse. She mentioned the last horse I had tried, and I said that is the horse that the owner refuses to let leave his stable. The next day, Saturday, the phone rings and it is the wife of the owner of the horse. I hadn't heard from them in over three months. She said that they were having trouble with the horse's rider and would I be interested in him…again!"
"I said I would have to try him again and she said I could ride him in a show near Stuttgart in two weeks. I thought, I have nothing to lose so I rode him relaxed and easy going in the 1.45-meter class and we won. My first start on this horse and we win! On the Sunday there was a grand prix with a jump off and we went clear through and won the grand prix. It was a good beginning." Karsten chuckled at the memory. "I had drinks with the owner and he finally decided to let me take the horse."
"How many drinks did it take?" I asked. "A lot," laughed Karsten. "That horse became my Olympic horse, Nepomuk."
"How did you end up getting to the Olympics?" I asked, after surveying the desert cart.
I could see Karsten's eyes light up as he started recalling the journey to those Olympic Games, a story he had probably not told in quite some time.
"In the spring of '88, I got married for the first time, and this being an Olympic year I said to my wife, 'instead of a honeymoon, let's go to watch the Olympic Games.' Then I won the first Olympic qualifier in May on Nepomuk. I wasn't even considering the Olympics."
"You beat Ludger Beerbaum and Paul Shockemohle in that qualifier, didn't you?"
"Yes, then they announce the German Team and I am the third alternate, the seventh rider. Four riders plus one alternate would go to Seoul, Korea. The horses had to go into three weeks of quarantine before going to the Games. This was August, and I wanted to compete in the German Derby in Hamburg but the Federation said no, Nepomuk must go
into quarantine. I was really disappointed, I didn't think there was anyway I was going to the Games as the seventh rider and I had always dreamed of winning the German Derby."
"But then the sixth horse is pulled by Shockemohle and I move up. Then, in the last week of quarantine, another horse is pulled because of health reasons and now I am the fifth rider. I'm going with the team to Seoul. I couldn't believe it. The only problem was telling my wife that I would be busy riding during our honeymoon!"
"We get to Seoul and suddenly another team horse, Beerbaum's horse Landlord, pulls up lame, but I wasn't in yet. Schockemohle arranges for Beerbaum to ride Dirk Hafemeister's reserve horse, The Freak. That pair won a team gold."
"How did you get a medal if you weren't riding on the German Team?" I asked.
"In these Olympics, unlike any others, there was a qualifier for the Individual Jumping competition. I went clear the first round and Paul Schockemohle helped me warm up and relax before the second round and I qualified to ride for a medal in Individual Jumping."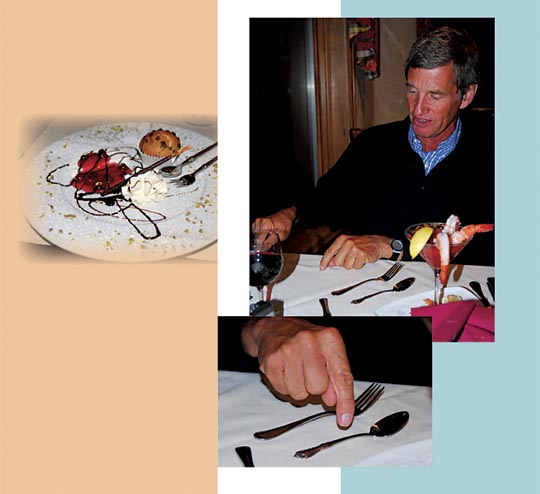 "Tell me about the medal ride." I asked.
"Pierre Durand from France had gone clear, and Greg Best from the U.S. had one down. I'm clear coming to the second to the last fence and I made a fault. On the rail outside of the ring next to that fence the Frenchman is cheering my fault because he knew he had just won gold. I had to clear that last fence to get in the jump off with Best for a medal and I did."
"So, you and Greg Best are in the jump off and you have a medal, you just don't know what color it's going to be. Were you nervous, excited, focused?"
"Yes, all of it! Greg Best went before me and he was very fast, unbelievably fast, and then he makes a fault in the combination. I couldn't go at his tempo so I knew I had to go clear with maybe a time fault. Everything was going good until that same combination. We both ended up with four faults but he was faster and won the silver."
"So you won a medal as the fifth rider on the four man German Team. Not bad."
"The nice thing was that every German rider won a medal – dressage, eventing, and jumping. Normally, I would have been the only person not to win a medal as a reserve rider, but it turned out really good. Unbelievable really."
"Where is Nepomuk these days?"
"Nepomuk is now retired at my farm, and at 31 years old, he still looks very good. I turn him out in the field with the young horses and young children still ride him occasionally."
"Wow, 31, that's impressive. Greg Best's Olympic mount, Gem Twist died not too long ago."
"Nepomuk might just be the last surviving horse from those Olympics," said Huck.
"When did you stop competing?" I asked.
"About six years ago after numerous Nations Cups and Grand Prix. I did try to go back to Hamburg and win the German Derby but it wasn't to be."
"The one show you wanted to win so badly. Will you ever give it one more try?"
"Yes, in my dreams."
We were the only ones left in the restaurant and the waiter was waiting for us to leave. "Did you enjoy dinner?' I asked. "Yes," said Karsten, "and you?"
"The dinner was good, but the company was excellent and the stories were fascinating. Thank you for an entertaining evening and have a good trip back home to Germany."
"I hope to see you again," said Karsten as we left the restaurant.
"I hope so too, my friend."