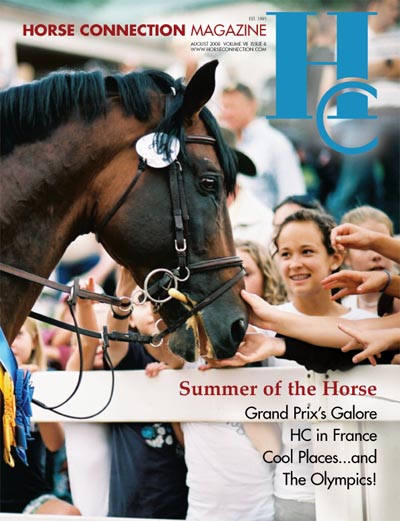 An Equestrian's Summer in France – August 2008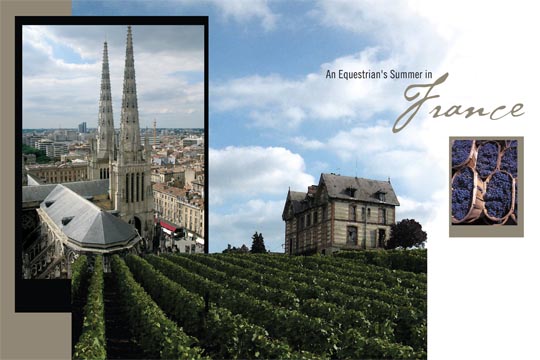 Story and Photos by Danae Blythe
France in the summertime, where the sun keeps you warm until 11:00 at night, the "soldes" summer sales ease the pain of the dollar to euro conversion, and a lifesaving balm called Bia-Fine eases the pain of sunburn. HC has spent a month in the Bordeaux region, riding, eating, drinking and shopping. Here is our exclusive guide for the equestrian in France.
Where to Stay in Bordeaux
Hotels in Bordeaux range from hostel–like accommodations to the Grand Hotel of Bordeaux, and while it is easy to find conveniently located hotels, we at HC prefer to live like the Parisians and rent a flat. Ranging from usually a two night minimum stay to however long you like, HC recommends www.Homelidays.com, where you can find authentic and furnished flats that will give you all the amenities and a taste of real day-to-day life in France. Stock your fridge with fruit and gorgeously stinky cheese from the farmer's market, and finally, use a French Press to make your coffee in the morning. Homelidays lists properties almost everywhere in the Bordeaux region, but we prefer The Chartrons area, a popular place to live with the Gironde River and Tram at it's doorstep. Be forewarned: many of the Bordeaux flats that are rented out have a beautiful view from the 4th or 5th floor, but most of these old buildings do not have lifts, and after carrying your luggage up to the top, you will need to be promptly rewarded with a light brut rose on your balcony.
Farmer's Market
On Sunday mornings, a farmer's market in the Chartrons area on the river, offers the best food Bordeaux has to offer. With meats, cheeses, patisseries, fresh mussels and oysters, it is a stretch of paradise paired with music, wine, and finished with Bordeaux's specialty- the "Cannele", a donut-like pastry that is not as sweet and slightly more doughy. Why HC loves this farmer'­s market: It's all food. No cheap jewelry, no incense sticks, no rugs, no amateur oil canvas paintings. It's just fresh, gorgeous food and the green light to enjoy a glass of wine at noon.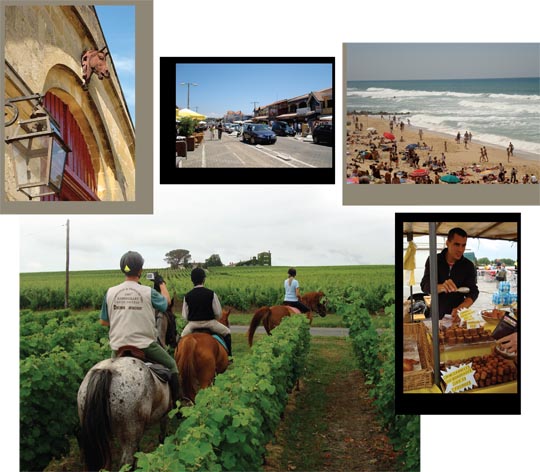 Fête le Vin
Fête le Vin, or "The festival of wine," takes over the Chartrons and quickens the pulse of Bordeaux from June 26th through June 29th. This wine, dancing, and cultural festival are four days of epicurean delight, complete with fireworks over the river each night.
http://www.bordeaux-fete-le-vin.com/
Lacanau (The Beach)
Just a short 40 minutes out of the rather small town bustle of Bordeaux is Lacanau, a long stretch of beach with world-class surfing. Rent a surfboard, a wet suit, and take to the waves – choppy at times but well worth the struggle. On the sand, tops and sunscreen are optional so you might end your day a little more than sun-kissed! Bia-Fine is a lifesaving emulsion that can be found in just about any pharmacy for fewer than five Euros. HC's insider tip: Bia-Fine makes a great moisturizer – sunburned or not!
Les Soldes
Twice a year for six weeks, Les Soldes overtake France. Usually in the beginning of January and the better half of July, Les Soldes opens the doors to let you stock up for the season. These soldes are the only time you will see actual retail sales in France, as any other promotional sale in a retail store risks government fines. They are the greatest sales of the season- you'll find anything and everything up to 70% off. From local Bordeaux shops to haute couture in Paris – it's all for the taking.
The Ride
My time in France had quickly made an imprint on my everyday life. I ate my meals with more leisure and contentment and the breathtaking architecture and simple, yet meaningful way of life was feeling more and more like home every day. I had a glass of wine on my rooftop overlooking the river and the city lights, and got some rest for my ride the next day.
Kicking off their inaugural ride, BD Tours (www.bdtours.fr) is doing something in France that seems like an obvious fit, yet Bruno Delmas and Robert Roncoli are providing both equestrian and wine tours that are one of a kind. I decided on the Sauternes ride, having never been to that region. It's known for foggy mornings and clay soil, promoting a grape with high sugar levels and humid moist air that allows these grapes to literally rot. I figured the clay soil would be a nice alternative to the rocky gravel-like soil native in some of the other wine regions, just in case I landed on it from the saddle. Clay has a much nicer ring to it. After all, I couldn't remember the last time I had signed up to ride for ten hours and cover almost 50 miles. It wasn't my riding skills that were in question, it was the jumping over creeks, and the galloping through unknown terrain that had me a little on edge.
I took the train from St. Jean station to Langon, a stop on the TGV line that time seemed to have forgotten. HC's Insider Tip for the TGV Train: Lines can be long, and often none of your credit cards will work. The only train for three hours is leaving and you've got to be on it. What do you do? Hop on the train anyway and just pay cash when they come by to collect tickets.
Bruno picked me up along with some fresh bread, and we headed out. Along for the ride were two couples, one French, and the other English speaking– he from New Jersey and she from London. Together we drank dirt-muddled coffee, and met our horses. My horse's name was Spin, and it wouldn't be an hour in the saddle until I trusted him completely. There were general guidelines: stay with the group, try and follow our guide – who was an uncanny mix of Gene Wilder and Indiana Jones- but that was all. It all seemed a bit laissez-faire to be hopping on Gene Wilder's horses and following him into the unpaved terrain of this unknown country, yet we all followed eagerly and hopeful.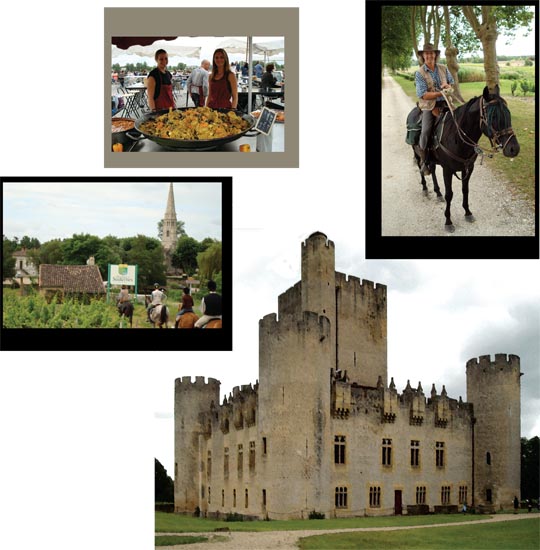 Through the backyards and cobblestone neighborhoods of small towns, we rode out of the fog through several clearings and then, alongside a sea of vineyards, we began galloping toward our first Chateau. My camera jogged inside of my saddlebag while Greg from New Jersey began to show signs of fear and concern for his overall person. He was a finance man, and galloping through vineyards with Gene Wilder leading the way had not previously been part of his everyday repertoire.
Approaching a rather decent incline, I found myself feeling sorry for my poor horse Spin. The last few weeks of cheese, bread and wine surely weren't making me any lighter. I was just beginning to get lost in the scenery when we were upon Chateau du Roquetaillade, a castle that has brought filmmakers, photographers, and humble groups of riders such as ourselves, to view it's magnificence for hundreds of years. We rode around the perimeter of the moat and stopped for lunch. Gene Wilder shoed a horse right then and there as we all collapsed in a field for lunch. True to French form we had cheese, bread, charcuterie, and a new favorite of mine – a salad made of wheat grain, avocado, crab, and tomato, garnished with creamy aioli vinaigrette. We stretched out into the grass with the spiders and bugs but we were all too weathered to move, especially Greg from New Jersey. Once Bruno and Gene Wilder's mandatory espresso and cigarettes were finished, we saddled up the troops.
Less weary of Gene Wilder and his sidekick Bruno, I settled into my saddle, taking in the French countryside. It was all so quaint, yet voyeuristic at heart. From castles to suddenly green lush forest floors and dwarfing trees, I wondered, where did the vineyards go? The castle? How did Gene Wilder possibly know his way through here? In my moment of panic my one solace was my new friend Spin, who reassured me I wouldn't in fact land on the clay soil as I had predicted. Instead, with his careful inspection of every jump and unsteady ground, he carried me safely through our day. We may not have won the race but I was happy to accommodate his caution. We rode through this strange new world for nearly an hour, when suddenly we were emptied into the backyard of Sophie's home.
Sophie knew Bruno and Gene Wilder well, as did her dogs. We tied up all the horses between trees, and Sophie welcomed us inside her home and her wine cellar. With the dogs we shared cheese and wine and poked fun at Greg from New Jersey's aches and pains. Sophie told us about the region and their last few vintages as my mind wandered off dreaming of a shower and a bed. It had been a long day, and as this ride came to an end I realized I was in France, in a gorgeous wine region with new friends –both two and four legged- whom I would likely never see again. I began to feel nostalgic in my withered and exhausted state. We thanked Sophie and walked towards our horses when Gene Wilder shrieked.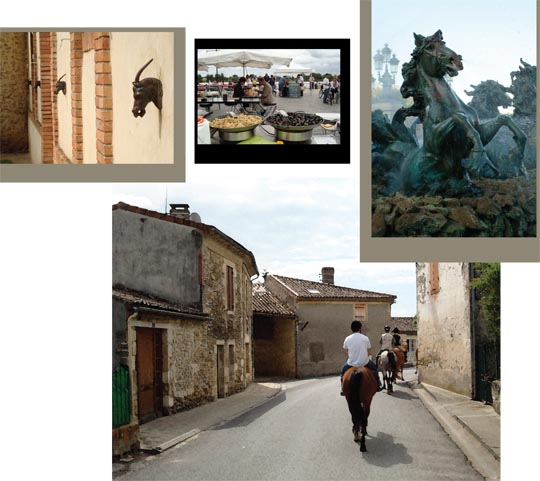 In French even yelling sounds different. His black stallion had untied his Indiana Jones's tried and true slipknot and had taken off. Now, I'm not sure how many people out there have experienced losing a horse, but it is very unlike forgetting where you parked your car, or worrying because your cat got out. This is a black stallion, fully saddled, roaming the countryside and country roads. While Gene Wilder, Bruno, and Sophie frantically set out by car and by foot, all we could do was keep looking deep into the hills that surrounded us. I believe it was Greg from New Jersey who spotted him first – this gallant black body moving behind trees and quickly shrinking as he galloped in the other direction. And just as quickly as we had thought we lost him, we could see a silhouette of a man mount the stallion, turn, and head in our direction. Moments later Gene Wilder thanked his fellow countryman, and motioned us to once again follow his lead. He was a rare, rustic, renaissance-like hero who up to this point I didn't believe existed outside of action and adventure movies.
And so, with Greg from New Jersey's slouching figure, we crawled back to where we started earlier that day. The horses were washed down and let out to pasture, Spin rubbed his head against the side of my body and I started to already miss the guy. We all stood around for a bit, not sure of how to say goodbye after such a memorable day, but eventually we all parted ways, too tired to do otherwise. The French couple drove me back to my flat in Bordeaux, and I showered and hit the bed without dinner and with little strength left in my body.
BD Tours is certainly not out to impress anyone. It was simple and elemental, yet left me feeling more fulfilled then any past wine or riding experiences I've had. Come to think of it, now thousands of miles and several mind frames away from this voyage, there are few experiences I can remember that come close to comparison. I realized upon reflection, while writing this piece, that I encountered this experience on my own. It was the first time in a long time that I had the space to really be alone. No distractions, no phone calls, and no deadlines; just myself and a horse, riding through the countryside for a day. It was brilliant.