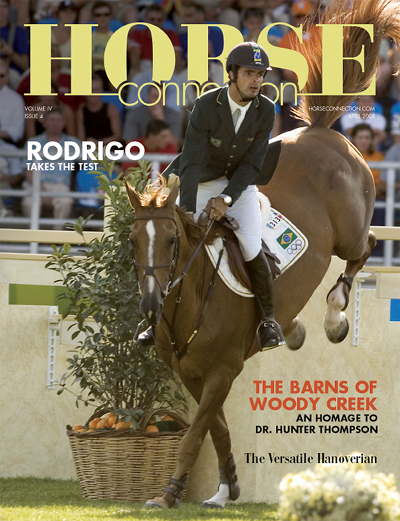 The Barns of Woody Creek – April 2005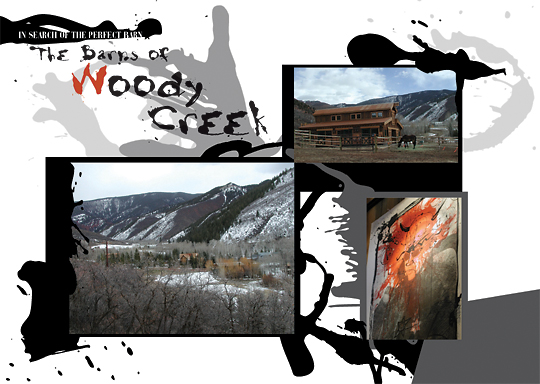 geoff young
After a brief, unwelcome hiatus to tend to the mundane and taxing responsibilities of business and life in general as defined by our society, it was time to lock up this remorseless and insatiable beast that threatened the freedom of my thoughts and impulses and resume my search for the perfect barn. On deciding a course, I determined that instead of searching out and across the land, I would take a direction up and away. There was a place in my native home of Colorado that had been in the news lately. And while news from this unique Colorado lair was usually quirky and wildly entertaining, the current news was not so good. In fact, in a way, it signaled the end of our tenuous perch on the rock wall of utopian hopefulness and youthful optimism.
I was heading to Woody Creek, Colorado, eight miles northwest of Aspen, downstream on the Roaring Fork River, and home to about 450 woody creatures. Woody Creek is an irreverent mish mash of ranches, mobile homes, homestead cabins, a tavern, post office, art gallery and general store. It is a bohemian refuge for artists, scholars, actors, musicians, poets, writers, and thinkers, or maybe just dreamers. Don Henley from the Eagles, John Oates of Hall and Oates, Jimmy Ibbotson of the Nitty Gritty Dirt Band, newsman Ed Bradley, actor Don Johnson and physicist George Stranahan all call Woody Creek home.
The recent news was about the untimely death of Woody Creek's most notorious and famous resident, Dr. Hunter Thompson; father of gonzo journalism and counter culture icon. His was a voice that raged against the machine, not necessarily as a muckraker, but more as a literary impressionist. And as we read his canvases, we laughed and cheered because through his words we knew there were others, crazy like us, yet invisible. Hunter made it all visible and visceral.
I wanted to go to Woody Creek to find a perfect barn and in the process find some truth about what drew these kinds of people to this place. What I found is that Woody Creek is about altered sensibilities, music, art, science, guns, bombs, community involvement and craziness; pure, wonderful, Rocky Mountain craziness. It is also about nature, perfect barns, fresh foals, hunting hounds, elk herds, vistas and views that alter the brain without chemicals, and a state of mind that becomes addictive towards this special place along the banks of the mighty Roaring Fork.

As I wound my way through Glenwood Canyon, about an hour outside of Woody Creek, I feared, that as a writer, I would be unable to convey the sense of this place; a place that was home to a literary giant, albeit a fallen giant. As I glided past the canyon walls, Hunter's words crept into my soft machine. "When you hook the big one, let it take you for a ride. It's all you can do to hold on, but if you come back with a story, you're a hero. Women throw themselves at you, bottles open by themselves and fans start crawling into your bed wanting to get drunk with you."
As I neared Woody Creek, I anxiously hoped that I would land this big one, and come home with a great story strapped to the hood of my truck; a truck filled with Paines Wessex MK3 Red Distress Rockets. Because, as Hunter was known to say, you never know when the bastards will try to make a move on you.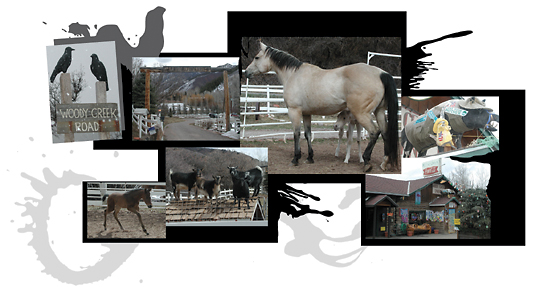 "A bump, two dips and a rumble strip – that's Woody Creek," the bumper sticker proclaims. I dropped down to the river off of Hwy 82, crossed the bridge and proceeded into Woody Creek. My first stop was a return visit to Pat Scanlon. Two years earlier I visited Pat and the beautiful barn that housed his feisty hunting pack of Jack Russell Terriers. Since then, Pat had built another barn, this time for horses. Having recently imported a small pack of quality hunting hounds from back east, Pat and my friend, longtime Aspen area artist, Louisa Davidson, saddled up a couple of horses and took the hounds out for some field exercise. I took the time to explore the new barn.

Pat, who doesn't have a degree in architecture, but could, based on his barn designs, knows how to create a barn for efficiency and beauty. The interior walls are tongue and groove knotty pine with aged graying in the wood. The aisles are soft brick and the stalls have rubber five feet up the walls providing a safe environment for the horses. There is a gorgeous stone floor in the tack room and the bathroom, which also contains a shower. The bathroom door slides open to conceal a stacking washer and dryer. It is all very functional and aesthetic. A unique circular staircase goes up to the hayloft, which offers beautiful views of the mountains. An intricate stonewall has been built into the side of the slope where the barn sits. It reminded me of an Irish stonewall, and against the wood of the barn made for a striking contrast of natural materials. Pat's love of this land and its lifestyle is reflected in the barn and in his forays into the mountains with his horses and hounds.

I walked down the road a couple hundred yards to Don Johnson's Buffalo Wallet Ranch. I had an invitation to come visit the two foals who had been born days earlier. Four goats perched on the roof of their little house eyed me warily as I approached the barn. As soon as they posed for a picture, a game of king of the hill ensued and they were soon butting each other off of the roof. I turned my attention towards the two adorable foals; one pure white palomino baby and a little brown thoroughbred cross with a white blaze. Frisky and affectionate, these foals lived the good life in this small valley. With eight pregnant mares on the ranch, these youngsters would soon have plenty of playmates. Although Woody Creek was still recovering from Hunter's death, new life was sprouting in this hamlet and would continue to. Nothing is forever, but the transformation of the life force is unending and constant.

It was time for lunch and the only option for nourishment, other than the spiritual kind, was at the Woody Creek Tavern. This community meeting place has a funky, chaotic appeal to it. The food is good and the interior has enough pictures and knick knacks, including a sailfish with a leg sticking out of its mouth, to keep one amused through several fresh squeezed lime juice margaritas. The tavern, the gallery next to it and the store next to the gallery make up downtown Woody Creek. The outdoor patio is a great place to relax and hold court for an hour or a day depending on your lack of employment or excess of funds.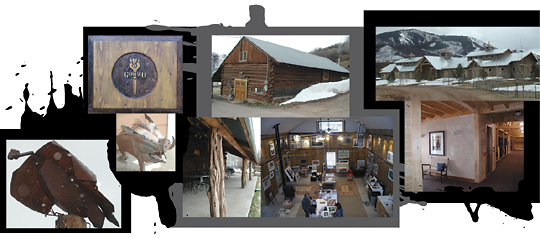 After lunch I drove up Woody Creek Road to Owl Farm, the home of Hunter Thompson. Two rusted iron vultures, perched high and glowering, kept silent vigil over the entrance to the farm. It is unassuming, nothing fancy, and you wouldn't know who lived there if not for the doubled thumbed fist holding a peyote button engraved on the lower portion of the wood door with the one word that said it all – Gonzo. As a writer, Thompson put thoughts in a blender and hit the frappe button and the words would come flying out with the fury of a tornado with a bobcat in it's eye. He wrote, "The Edge…there is no way to explain it because the only people who really know where it is are the ones who have gone over."
I gazed across the road and spied the barn that houses the llamas that belong to John Oates. It was nothing fancy, but it was no abandoned luncheonette either. If you are missing the references here, it doesn't matter. You're either not from this generation or you didn't get into the music.

Up Woody Creek Road I drove. The day had been pleasant, but as soon as I left Owl Farm, a snowstorm blew in so fast and menacing, I wondered if the force behind it was wearing shades and smoking Dunhills. Up the road a bit I came to the infamous Flying Dog Ranch and the historic barn that belonged to George Stranahan; physicist, philanthropist, brewer and roustabout renaissance man.

Stranahan first skied Aspen in 1949, bought land in Woody Creek in the late 50's, opened the Aspen Center for Physics, part of the Aspen Institute, in the early 60's, and settled in Woody Creek in 1972. He owns the Flying Dog Brewery in Denver, which will introduce a handcrafted whiskey in 2006. He is the "king of Woody Creek," responsible for much of what it is today. He owns the store and the gallery and recently sold the tavern. He sold Hunter Thompson the land that would become Owl Farm. The circa 1880's log barn at his historic Flying Dog Ranch has been transformed into a studio that digitally reproduces original art for prints and posters. The primitive hand hewn log building contains modern state-of-the-art digital equipment, a contrast that was not lost on me as I toured the studio. George reproduces the art of Ralph Steadman, Hunter Thompson, Russell Chatham, Louisa Davidson, and William Meriwether to name a few. I spied one of Steadman's paintings of Hunter as a sheriff. His style is unique and chaotic and tortured. It was a reminder to me that the people who make Woody Creek their home, live and think out of the box. And they have crazy fun. A typical Easter egg hunt at the Flying Dog Ranch would consist of colored eggs hanging from trees, and guests toting guns with which to shoot, or literally hunt, the eggs. Living at high altitude must be a great catalyst to the creative mind; that and a lot of gunpowder.

I left the Flying Dog, and Woody Creek Road, and headed out to see a final barn. A barn that was not of the eclectic style and substance of the barns I had seen, but one that represented the other part of this area of Colorado; enormous wealth.

The barn and indoor arena at Chaparral Ranch represent the affluence of this area, and then some. It is huge, spectacular, and the only thing missing are solid gold horseshoes for the residents of the barn. It has oversized soft brick aisles and the stalls are top quality in materials and craftsmanship. Every appointment is luxurious, more geared toward million dollar jumpers and racehorses than western trail horses; however, it is after all a barn, so all horses are welcome with no consideration to class or economic standing. I'm sure this applies only to the horses.

The indoor arena is one of the nicest I have ever set foot in. Two high viewing platforms offer spectators' prime viewing. The woodwork is amazing in a building this large and expansive, and it has radiant heat running the entire length of the arena. With elegant stone floored bathrooms, top grade footing, and good lighting, this arena is the equestrian centerpiece of the expansive Chaparral Ranch.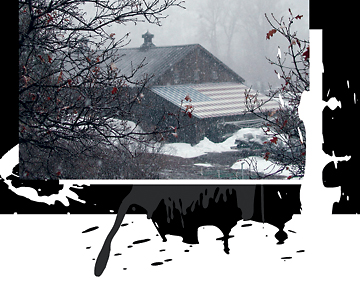 The snow was really starting to fly and I knew that if I didn't make a run for home, I might be stranded here for a couple of days. It wasn't a big concern. I would feel very contented being stranded in Woody Creek. The barns reflect the spiritual and individual energy that makes this place unique. Horses, hounds, art, llamas, history and mythology, the barns here house all of it. This is what Colorado is and has been to me since my childhood. It is a place where the air is thin and the blood is thick, and people really live life to its fullest, regardless of the consequences to mental and physical health. Living with horses is part of the Colorado lifestyle and it is not a passive way of life. You have to be aggressive, whether it is going over a jump on the hunt, or crossing the Continental Divide on a trail horse or blasting an Easter egg out of a tree with a shotgun. It is what makes Colorado the magical place it is. As Hunter Thompson
said, "Some may never live, but the crazy never die."
As I headed back through Glenwood Canyon on my way home to Castle Rock, I pulled out the Nitty Gritty Dirt Band's disc, "Welcome to Woody Creek." I fired up a smoke and cranked up the sound system to eleven, and the words filled my ears as the images settled in my mind.
"An' it's a new day in the mornin': Anythin' is possible, it's all good. For brief shinin' moment, Everythin' is wonderful, Knock on wood. Knock on wood."